Blaise Ingoglia– Incumbent (REP)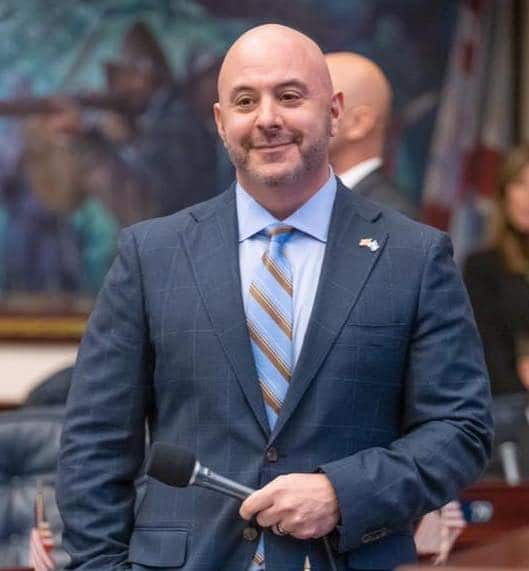 BIO: Blaise Ingoglia was born in Queens, NY in 1970 and moved to Spring Hill in 1996 with only $1,600 in his bank account. Since then he started multiple companies that turned into multi-million dollar operations. He ran for State Representative in 2014 and has been re-elected twice. Blaise is going into his last term in the Florida House. He is also the past Chairman of the Republican Party of Florida helping to get both Donald Trump and Ron DeSantis elected to President and Governor, respectively. He and his wife Julie live in Spring Hill.
Q & A
What are the biggest issues facing the state of Florida?

Two big issues the legislature will have to tackle this year is balancing a reduced budget due to declining revenues from COVID-19. We must do this without raising taxes and/or fees on Floridians. Another big issue is continuing our commitment to the environment with funding for water quality issues. We have made historic gains in both funding and passing legislation and we must continue to do so for the sake of future generations. Florida's population is higher than New York's yet we have half their budget. We must continue to show that we can deliver on our promises and still do so in a fiscally responsible manner.
What local needs are you planning on addressing at the state level?
I will continue to pursue additional funding for sewage treatment plants and septic-to-sewer conversion projects. Unfortunately, because of COVID-19, many of our budget items were vetoed and I look forward to working hard to get those items back in the budget if revenue allows.
Keith Laufenberg (DEM)
(No photo provided)
BIO: Mr. Laufenberg did not provide a bio to the Hernando Sun, but according to his campaign website, his primary occupation is a Freelance Writer for kglaufenberg.com. He has three children and is married to Andrea Maria Laufenberg. He earned an Associate's Degree at Broward Community College in Paralegal Studies. He was born in Rockville Centre, NY. He has held positions as a Legal Assistant, Carpenter, in Real Estate Sales, Mortgage Broker and was even a professional boxer. His resume also states that he was in the US Marine Corps 1962-1965.
What are the biggest issues facing the state of Florida?

The biggest issues facing the State of Florida is Covid-19 & Donald Trump's lack of any sane answers to how to handle it?
What local needs are you planning on addressing at the state level?
What local needs are you planning on addressing at the state level is the same answer; they are one and the same. We must address the Corona Virus without our governor, Ron DeSantis, aka DeSenseless, as he is afraid of Donald Trump's shadow, much less his physical presence.
Donald Trump has absolutely no human emotions for other human beings. and cannot help us relieve our anxieties and weak feelings from just listening to this man, Trump, who is supposed to be our President, try to act out his role as "macho man." The reason he has to "act" it out is because he is not a human being but merely someone who is totally brainwashed into believing that he is the boss of all who he comes upon because he is the POTUS and everyone must obey him or be fired and so many have been fired that everyone, including Trump, have actually forgotten who has quit, resigned or been fired and are so confused who to listen to or what to do, or what Trump's last order was that the government itself has broken down almost totally. The Attorney General, Bill Barr, is a perfect example of what has happened to so many others in the Trump administration, he is either totally intoxicated or, like his benefactor, intoxicated due to Trump himself, who sends messages to do this or that or say this or that and little or none of it even makes any sense, so Barr simply takes a drink and hides in place, in his office, until called upon to report to Trump or give an interview again; an interview that will make about as much sense as Shemp, of the three Stooges, interviews Curly who is speaking nonsense, as usual.
And so, the beat goes, marching in step, Trump, being a 'Reality Star," who believes he is still acting out his "reality," continues to speak nonsense, speaking only of himself and how great he is, how great he feels and how he is the POTUS and can never get really sick because of who he is and how great he is. If this makes no sense to you, the reader, it makes no sense to me, the writer, either but than, that's the whole point of what Donald Trump has done and is continuing ad infinitum, this is his life.