A small alcove in the downstairs hallway at the May-Stringer Museum offers a glimpse of the streets and buildings in the center of Brooksville as they were in the late 1800s and early 1900s.
There are a number of copies of the Sanborn maps from that era. The maps were created by the Sanborn Map Company in New York State in 1866. David Sanborn was a surveyor and civil engineer who developed the maps as an aid to the fire insurance business. The distance between structures and distance to fire departments were used to assess the risk of insuring the property. The maps included color-coding and symbols to describe the types of building materials, for example.
The Sanborn Map Company employed hundreds of people to do the surveys and draft the maps. As insurance companies relied on other means of assessing the risks, the Sanborn Map Company completed its last new map in 1961. The company is still in business, however, but its focus is on GIS mapping now. Of course, the historic Sanborn maps are available online now. The maps on display at the May-Stringer range in date from 1885 through 1917.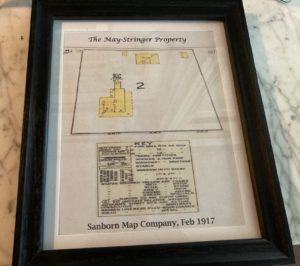 The Museums are open!
The May-Stringer – Tours Tuesday – Saturday  11am – 3pm – 352-799-0129
The 1885 Depot – Tours Wednesday, Friday & Saturday  Noon – 3pm – 352-799-4766
The Countryman One Room Schoolhouse – Closed for the summer – 352-515-3054 or 630-464-2313