by PAT RAIA, [email protected]
Nearly 1,000 Duke Energy customers lost power after a pickup truck driven by a Brooksville woman collided with a utility pole at North Broad Street at Mondon Hill Road in Hernando County.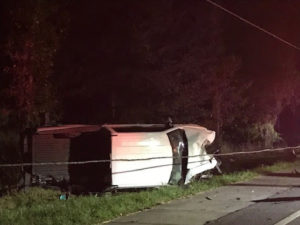 According to Florida Highway Patrol (PIO) Sgt. Steve Gaskins, just after 1 a.m. on Oct. 4 a 48-year-old Brooksville woman driving a pick-up truck northbound on US-41 (North Broad Street) north of CR-484 (Mondon Hill Road) when she lost control of the vehicle, entered the shoulder of the roadway and crashed into a Duke Energy utility pole.
The pick-up trick continued to move until it struck a tree and finally overturned in a ditch.
The woman sustained minor injuries, Gaskins said.