Mel Brooks is a comic and cultural icon who has entertained audiences in his roles as actor, director, writer and producer since his debut in the entertainment scene in 1951. In his Academia Hernando program, Mel Brooks: From Borscht To Broadway, actor and voice performer Rick Kistner will explore the talent and career of a national treasure.
Mel Brooks: From Borscht To Broadway will be presented at 10 a.m. Friday, Oct. 8, at St. Andrew's Episcopal Church, 2301 Deltona Blvd., Spring Hill. Face masks are required for attendance. "Join us in delving into the incredible life of a comedy genius and multi-talented writer, actor, and all around performer: Mel Brooks. From a comedy writer for Sid Caesar's variety show, 'Your Show of Shows' to his blockbuster musical, 'The Producers', you will be amazed at the incredible accomplishments of this extremely gifted entertainer," reads an event description.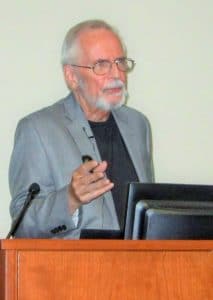 And this information will come straight from a gifted, and widely respected, guest speaker. "Mr. Kistner's diverse series of lecture topics are a reflection of a dual career. He spent thirty years in Law Enforcement including twenty years as a Chief of Police at cities in Ohio, Kansas, Connecticut and Florida. Simultaneously he continued a career in the performing arts that began at the age of 16 and continues to the present appearing on stage and also in TV and radio commercials and the occasional film, a career that was profiled by Charles Osgood on 'CBS This Morning'. A voice artist, he can be heard reading many classics of literature on the Lit2Go website," read an event bio.
Kistner holds a B.A. in Urban Studies from Wright State University and a Master's in Public Administration from the University of Dayton. He also studied Theater Arts at Connecticut's prestigious Eugene O'Neill Theatre Center. "His deep interest in American History is reflected in his lectures on historical eras and notable personalities of the 19th and 20th centuries while his background in the performing arts forms the basis of his programs on Film and Theater topics. Since 2007 he has delivered over 500 programs at many venues in Florida and elsewhere," the bio read.
Sharon Printz, board member of Academia Hernando, feels that audiences will derive a great deal of enjoyment from the Mel Brooks: From Borscht To Broadway presentation."This presentation is in line with the more light-hearted presentations at Academia Hernando. Ones that present comedy, music and human interest," said Printz.
In a prepared statement, Kistner expands on the remarkable life and career of his subject artist. "An acknowledged American Master, the name 'Mel Brooks' is synonymous with comedy," the statement read. "This 'skinny little Jew kid from Brooklyn' (his words) has conquered the entertainment world, with top honors in Film, Television, the Recording Industry and Broadway. But his was a life of twists and turns, ups and downs. Now 95, the key to Brooks' rise to the top has been perseverance and the ability to constantly reinvent himself. His story is a fascinating Horatio Alger style rags to riches story."
This Academia Hernando program will delve deep into the life of this true American Original. Drawing its origins more than a decade ago from the popular Mondays in Brooksville program, Academia Hernando. The not-for-profit lifelong learning organization providing quality instruction and learning experiences for adult students throughout Hernando County and beyond is returning in grand fashion for the Fall 2021 season, as sponsored by The Hernando Sun, Kenjo's Tree Service and The Residence at Timber Pines. "Mr. Kistner has varied talents and interests, he is the perfect presenter," said Printz.
"Our goal is to inform, educate and inspire adult learners through a series of weekly lectures on a wide variety of topics," reads a mission statement found at https://www.academiahernando.org/about.
An academic subscription to Academia Hernando costs $70 and includes all eight lectures and a mystery bus trip excursion. Tickets to individual lectures are $10. For more information, visit www.academiahernando.org or call (352) 515-0300 or (352) 686-4035.