" a small-town woman with a glimmer in her eye, who did good for the world…"
–Tim Surratt
By MEGAN HUSSEY
[email protected]
On August 16, 2021, during a city council meeting, the Brooksville City Council proclaimed Ann Mau as the Great Brooksvillian of the Year for 2021. This is the latest of many titles to be earned by Mau (born Margaret Ann Surratt), a community leader who also achieved and made her presence known on national and international levels. And many say that Ann Mau, who passed away August 9, 2020, was a woman ahead of her time.
" 'The Great Brooksvillian of the Year' is an annual award program established by the City of Brooksville, Florida in 2002, whereby distinguished individuals are nominated by citizens to be recognized and honored for their significant contributions to the history, culture and/or economy of our community or have had connections and/or ties to our community," read a City of Brooksville news release.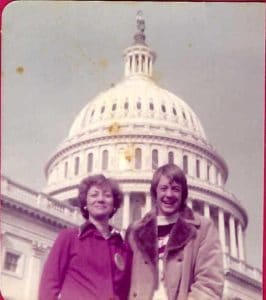 A resident of Brooksville since 1962, Mau in 1991 was appointed as the Hernando County Supervisor of Elections and went on to serve two terms after winning elections in 1992 and 1996. And beyond filling this vital capacity for the community of Brooksville for a full decade, she participated in election-related professional associations that led to her selection by the United States Government to assist with conducting elections in Albania and twice in Bosnia. "Ann also volunteered with the American Cancer Society for 50 years serving in various positions at the local, state, and national level," read a news release prepared by the City of Brooksville.
Mau worked as a substitute teacher for Hernando County, for the Southwest Florida Water Management District (SWFWMD), and then for the First National Bank of Brooksville, where she remained for 22 years. She started there as a cashier and ultimately served as vice president.
In many ways, Ann Mau always was regarded as a Great Brooksvillian, as through her professional community service and volunteer work she received numerous awards and accolades in Hernando County and beyond. Mau completed numerous charity events on behalf of the Epsilon Epsilon chapter of Beta Sigma Phi (where she served as president) and Xi Beta Phi, the Junior Service League (where she earned the Rose of Service), and the Hernando High School Band Boosters. She was named Outstanding Young Woman of America in 1972. She received the prestigious St. George National Award for distinguished and exemplary leadership in the American Cancer Society. She was a member of the Hernando County Chamber of Commerce, Committee of 100 Business and Professional Women (BPW), and the National Association of Bank Women. She was a member of and active in the Brooksville Christian Church. She also studied at Pasco Hernando Community College.
The pages of Hernando newspapers brim with photos and descriptions of Mau donating to and volunteering for the Book Drive for Hernando High School, the 4-H Horse Club, Rape Crisis Counseling of Hernando County, and the Guidance Center of Hernando County.
In an official resolution made upon her retirement, the Hernando County Board of County Commissioners heralded and honored the achievements of Ann Mau. "The Board of County Commissioners wishes to express its heartfelt appreciation to ANN S. MAU for ten years of dedicated service to Hernando County as our Supervisor of Elections and for always working cooperatively and collaboratively with the County Commission to serve our citizens," read the resolution.
High praise also came from Tampa Mayor Pam Iorio, who praised Mau in a letter for her support and friendship. As well as from Gov. Lawton Chiles, who lauded Mau in a letter of thanks to her service to the state. "The achievements of this administration are due, in large part, to your support of the vision and mission we have shared for the last eight years. It has been encouraging to Buddy and me to know that we could count on you to help us make a difference for the people of Florida," Chiles wrote.
Mau also had other titles of which she was particularly proud. Wife of Gary Mau. Daughter of William Hershel and Margaret Lucille (née Sappington) Surratt. Mother of son Todd Mau. Sister of Tim Surratt and Cheryl Lecce. So many say, she was a mom to everyone.
"There was a group of boys that grew up on Dogwood Drive in Brooksville and we needed a lot of motherly supervision. Ann was one of our Moms that provided love, understanding, and guidance when we needed it," said family friend Cliff Manuel Jr.
Tim Surratt, for his part, is a proud little brother. "She was more like a parent to me, she taught me many life lessons. She was also a good citizen who served the community. She was kind, caring, and loving to all people. Ann Mau came from a long line of strong women and distinguished herself as a bank official and volunteer, " he said. Son Todd Mau added, "Her influence was felt around the world. She traveled to countries around the world, helping people who were trying to vote. She was involved in a March on Washington to promote cancer research. She educated people. And she was a great mom."
Upon her retirement from public life and in response to her resolution, Ann Mau was quoted as saying,
"Happy trails. God bless Hernando County. God bless America and God bless everyone. Thank you."
"She was a small-town woman with a glimmer in her eye, who did good for the world," said Tim Surratt.
The community will thank Ann Mau at The Great Brooksvillian reception, which will take place October 11, at the City of Brooksville City Hall located at 201 Howell Ave., Brooksville. The reception will take place at 5:30 p.m. and is open to the public.