The US Border Patrol (USBP) is pursuing federal charges against a pair of passengers smuggled into Florida last week. The two were among four passengers discovered by a Florida Highway Patrol (FHP) Trooper conducting a traffic stop on I-75.
FHP Public Information Office (PIO) Sgt. Steve Gaskins said that around noon on Oct. 21, a Trooper stopped a 2014 Toyota sedan traveling southbound on I-75 near the 313 milepost (in Sumter County) for having an illegal tint on the vehicle's windows. The Trooper also noticed that the car's temporary Louisiana license tag had been altered.
When he was approached, the sedan's driver Mario Antonio Padilla-Aguilar, 24 presented the Trooper with a Honduras ID card, but no driver's license.
Meanwhile, the Trooper also noticed four nervous-looking passengers inside the vehicle.
The Trooper who was previously deployed to Texas suspected this could be a human trafficking or smuggling situation. Following questioning he learned that Padilla-Aguilar had picked up the two males from Guatemala in Texas and two females from Mexico in Louisiana in order to transport them to Florida.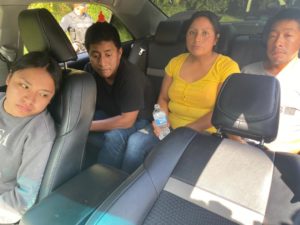 During further questioning, the four passengers told the Trooper that on Oct. 20 they had partially paid to be transported to Florida and that they would make an additional payment once they reached their destination.
After a roadside investigation, the passengers were turned over to the USBP personnel who were also at the scene, Gaskins said.
"USBP is now seeking federal charges against two of the four (as they) have been discovered to be repeat offenders for entering the US," Gaskins said.
Troopers arrested Padilla-Aguilar and initially charged him with four counts of Human Trafficking, as well as having no valid driver's license, no vehicle registration, and having an altered temporary license tag.
On Oct. 22, the charges were amended to four counts of Human smuggling and a moving violation.
Under Florida law, human smuggling takes place when someone transports into the state anyone who the accused smuggler knows, or should know, is illegally entering the United States from another country.
Padilla-Aguilar is being held at the Sumter County Detention Center on a $1.5 million bond.