Hernando Christian Academy strives to keep its student-athletes both mentally and physically active within their sporting programs, and their six-man football program is the school's popular venue. Although the roster may be small, currently at 15 players, their dedication and drive make up for it. "We are doing pretty good," said Coach Raley.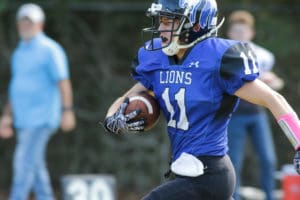 The Friday, Oct. 29 game against First Coast Christian ended with a loss for HCA with a score of (51-20) just a week before playoffs. But actually, that's ok according to Coach Raley. What prepped HCA for the playoffs was going up against the top two teams in the state towards the end of their season.
They faced Gainesville Christian Community on Oct. 22 and ended with a (63-40) loss. Absorbing their loss against First Coast Christian, Raley explained that these experiences are beneficial to his players. "We have a nucleus of very solid kids that have been with us for a number of years. A lot of my kids are just learning how to play, and we wanted to take this game as a learning game to learn to play against this type of speed," said Coach Raley. "Every year, I have to mutate my system to what my kids can do. This year is completely different from last year."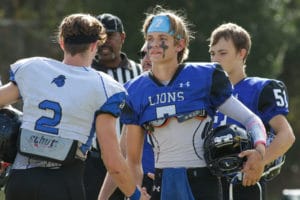 Right now, the concentration is on the playoffs.  Applying and adapting to what they learned on the field against Gainesville Christian Community and First Coast Christian is essential going forward to increase their strategic plans. "We all are learning what we are doing and getting better all the time," Coach Raley said. The Lions travel to Jacksonville to face Impact Christian Academy in the 2021 FCAPPS playoffs.