Most people associate weddings with a bride dressed in white walking sedately down a church aisle to the strains of Wagner's Wedding March, popularly known as "Here Comes the Bride." On the same note, many married couples renew their vows at some point in their marriage. 
This past Saturday, October 30, ten couples decided to have these ceremonies in an unusual venue with an unusual theme. The place was the May-Stringer House in downtown Brooksville and the theme, most appropriate for this time of year, was Halloween. The idea of doing this event was the brainchild of Vicki Sidlauskas, a museum volunteer and a notary. 
"I did one nineteen years ago on Halloween and we were trying to come up with something different for a money-maker," stated Ms. Sidlauskas.
The May-Stringer House is one of three buildings that are part of the Hernando Historical Heritage Museum Association. The association is a non-profit organization. It is made up entirely of volunteers and receives no government funds. 
Ms. Sidlauskas and her small group of volunteers started working on the Halloween-themed group wedding and vow renewal event about 2½ months ago. They posted it on social media and, within nine days, ten couples had signed up. Each couple paid $75.  
"So many people were interested that we could have had thirty couples, but we had to limit it to ten couples. We now have a waiting list and plan to do another themed wedding and renewal of vows on Valentine's Day," Ms. Sidlauskas remarked. 
Many of the couples stated that their reason for participating in this event was that Halloween was their favorite holiday. Some couples who were renewing their vows remarked that they had gotten married in a civil ceremony none of their family and friends attended, so this was a good way to have their loved ones witness their declarations of love and commitment. 
The longest-married couple renewing their vows was John and Susan Omran who are celebrating fifty years of marriage. 
"The most memorable thing about this evening is having our three daughters with us because they're spread out all over the country," Susan remarked. 
Russell and Ashley Morris decided to have their wedding in an unusual setting because, as Russell said, "We like horror movies. We like going to different cemeteries and things like that."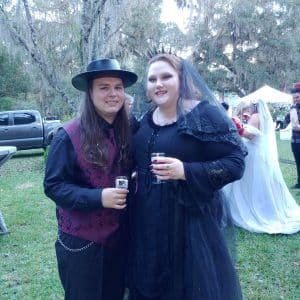 "We met when he was working at Dunkin Donuts and I used to drink a ton of coffee," Ashley remarked. 
Contrary to their family and friends thinking this type of wedding was a bit odd, they were "ecstatic," according to the couple.  
Marlene and Paul Caron are the other couple that said their nuptials on Saturday. Both have been married before in the traditional way and thought this would be "something very cool," according to Marlene. 
Although their friends and family thought their idea of a wedding was peculiar, Paul joked, "Well if they want to come over for Thanksgiving and Christmas festivities they kind of have to be supportive."      
Daniel and Megan Chiarella have been married for seven years. Her reason for their vow renewal at this location was very personal. 
"My dad just passed away in July and he came to the May-Stringer House every year. I did this in honor of him," Megan stated. 
For the Chiarellas, the most memorable thing about the evening is that they are part of the first group to do this ceremony here on Halloween.   
Dana and Lisa Smith, who were married on Halloween weekend twenty-one years ago, decided on the May-Stringer House to renew their vows because "it's haunted and nostalgic." The most memorable thing for them was having their family – parents, daughters and grandchildren – there to witness the event.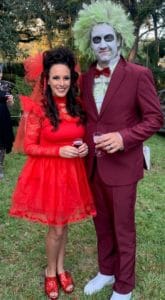 Besides the couples mentioned above, the following couples also participated in this inaugural Halloween event: Amanda and Jason Pagan, Adam and Stacey Parrish, Ken and Tania Woistman, Dave and Erin Noble, and Edward and Faye Shadick.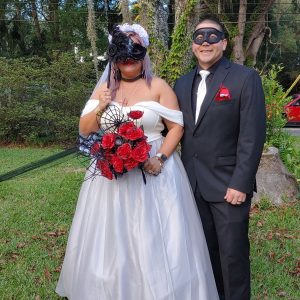 For all the couples and for their guests, I'm sure this is one ceremony that they will long remember.  
Any couple interested in getting married or renewing their vows at the May-Stringer House on Valentine's Day or who want to have an "ooky, spooky" ceremony next Halloween can contact the museum at 352-799-0129.