The front lawn of the May-Stringer was the scene for a wedding on Friday evening, November 12, 2021. The lawn and Museum were gaily decorated and illuminated with Edison lights and candles. It was a natural choice of venue for the bride.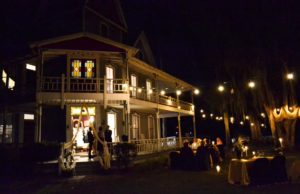 Morgan Wick has been the Curator for the Museum for several years. When she and her long-time friend, Leo Gonzalez, decided to tie the knot, the May-Stringer was Morgan's first choice for the ideal setting. 
It was a lovely evening and family and friends gathered to wait for the bride to come down the foyer stairway and onto the front porch. As she then proceeded down an aisle of candlelit borders, Leo and their soon-to-be combined family waited in front of a backdrop of a spreading tree. Morgan's children, Zoe, Jackson and Avery and Leo's son, Avery stood as witnesses. Vicki Sidlauskjas, notary and Museum board of directors member officiated.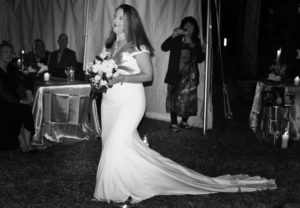 Delicious hors d'oeuvres, a fabulous array of desserts, wine, and soft drinks were offered and were followed with music and dancing. Congratulations to Morgan and Leo Gonzalez and family. It seems that the May-Stringer is a perfect place for a small wedding!