Thomas Rexford of Spring Hill has seen more than a century of honorable living. Marking his latest milestone on Nov. 11th, the YMCA of the Suncoast-Hernando County honored this esteemed WWII veteran, and a YMCA member, on a special dual occasion: His 102nd birthday and Veterans Day.
Rexford, born on Nov. 11, 1919, voluntarily enlisted in the second World War and served in the Army Air Corps in South Africa. Wife Beverly Rexford reveals that her husband comes from a family line that also boasts a Revolutionary War veteran, and a great-grandson in the Marine Corps. "And he's still doing well. He's good," she said.
Thomas, his wife reveals, was treated as a celebrity at the YMCA of the Suncoast-Hernando County's Veterans Day breakfast event, where he joined other veterans in enjoying a hot breakfast with a cake dessert; Along with a program of patriotic music performed in their honor.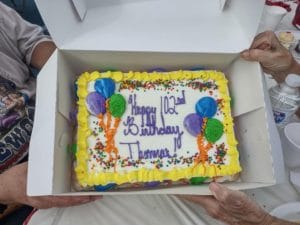 "Kids approached Thomas and asked to have their pictures taken. I love everyone at the Y," said Beverly Rexford. 
The daily celebration of veterans is a definite priority at the YMCA of the Suncoast-Hernando County. "As part of our cause to strengthen communities, the Y supports active duty military personnel and veterans for the sacrifices that they have made for our country. Providing monthly events for our Veterans is just a small way that we can continually say thank you while also providing the ability for them to build relationships with fellow service men and women.  It is amazing to see the camaraderie and hear them share stories and life experiences," said Amber Slusser, Branch Executive Director, YMCA of the Suncoast-Hernando County. 
Furthermore, Slusser says, YMCA staff members have a special place in their hearts for Thomas and Beverly Rexford. "We are all so lucky and honored to be able to celebrate Thomas each year because not only is he a veteran, but he was born on Veteran's Day and both him and his wife have been part of the Y family for over 30 years," she said.
Rexford finds another big fan in daughter Lynn Mueller Nissen. "When I think about my dad as a soldier, I think of a humble man who was proud to go to war for his country. My dad is a generous man who is loyal to his family. He's a blessing and a joy. The greatest values I've learned from him are the importance of honesty, respect, kindness and love," she said.