On November 20th, Weeki Wachee High School hosted the school's first competitive cheer event. The Hornets Cheerleading Coach Carissa Edwards sent invitations to cheerleading squads at Springstead and Gulf to compete in a head-to-head competition. "We are trying to build up cheerleading within the county. I know all the other high school coaches share the same goal, and this is a really great way to do that," Edwards said. 
Starting the season off by participating in a head-to-head competition gives cheerleading coaches the opportunity to see how their squad performs under pressure and the team can get accustomed to that pressure, performing in the presence of judges. "We're just getting our routines out there, and what can we do to improve ahead of the bigger competitions that we have at USA regionals where we can earn the bid to go to nationals. So this competition was great. We really found our strength. We are proud of ourselves for keeping up with our successful performances with our game-day routine," Edwards said. 
Springstead's Cheerleading Coach Shannon Herod continues to develop her squad's unique routines.  "This is the first time we have hit the mat this season and our first time to go out and do our routine in a crowd. The girls did amazing," Herod said.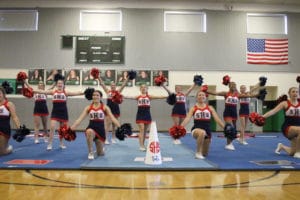 According to FHSAA Competitive Cheerleading competition rules, high schools must have at least four head-to-head competitions to get to regionals. And even though the event was small, it was powerful. The coaches received the feedback they needed from the judges to fine-tune and define their routines.  "Our goal is always to take the positive and negative to get ready for the next competition. We wanted at this competition for our girls to go out and feel that achievement but also to hear the judges tell us what they think of our routine," Herod said.
Competitive Cheer Results
Weeki Wachee took first place in the 'Game Day' competition and Springstead placed second.  In the 'Traditional' competition, Springstead placed first, Gulf came in second, and Weeki Wachee placed third. 
The next competition is at the Tampa Convention Center on Saturday, December 4. Cheerleaders will be performing in the UCA Regional Competition.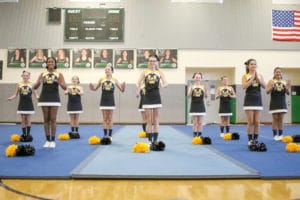 The Youngest Team
A bonus during the event was the opportunity to see the Winding Waters K-8 Yellow Jackets perform.  
Jen Calderon, Winding Waters' cheerleading head coach remarked,  "To see the girls be so unsure of themselves, and to see them perform almost perfectly, that is why I do it," Calderon said. "The girls have worked really hard to accomplish what they have accomplished in such a short period of time. Yesterday for us, we were the only middle school participant, and it was really just a showcase. I wanted the girls to get the experience of what competition was like. My girls did really well."