The phrase "Pay it forward" became popular from the movie of the same name. If you Google that phrase, you'll find that it originated long before the 2000 film. Most people know that the expression means doing an act of kindness for someone else rather than repaying someone who originally did something kind for you.
Each year Gulf Coast Academy challenges its eighth graders to pay it forward by planning and completing a project to help a local non-profit organization. One of the criteria is that the project be something the student is passionate about.
For Jude Mys, an avid fan of theatre and an experienced actor, that could only mean putting on a play. He is well-qualified to direct a play, having been a member of the Live Oak Theatre Company for quite a few years. Last summer he took a directing class and directed a short skit. Jude would like to make a career of acting and directing. All proceeds from the play will go to benefit NAMI (National Alliance on Mental Illness). "I chose NAMI as my project because mental illness is a big problem that affects 20% of adults and I've personally known people who have mental health issues," Jude remarked.
He found a play he liked titled "The Body of the Play" from an online site and called on some of his fellow thespians from Live Oak and friends from school to audition for the parts. "I've always liked murder mysteries. I decided on a British play because the British accent is one of the easiest accents to do. This play was cool because it's a play within a play," states Jude.
Another thing that he liked about the play is that it involves some audience participation. During the second intermission, members of the audience got to fill out a sheet and try to guess "Who done it" and why? What clues led to that conclusion?
Jude's Co-Director is Ely Walters. Ely has been acting for thirteen years and has been in at least eight plays. The eighteen-year-old plans to attend St. Leo's and eventually go into theatre. "I like to sing, dance, and act, as well as direct. This is my second time directing. Last year I was the musical director of Live Oak's 'Shrek, the Musical' and played Shrek," Ely remarked.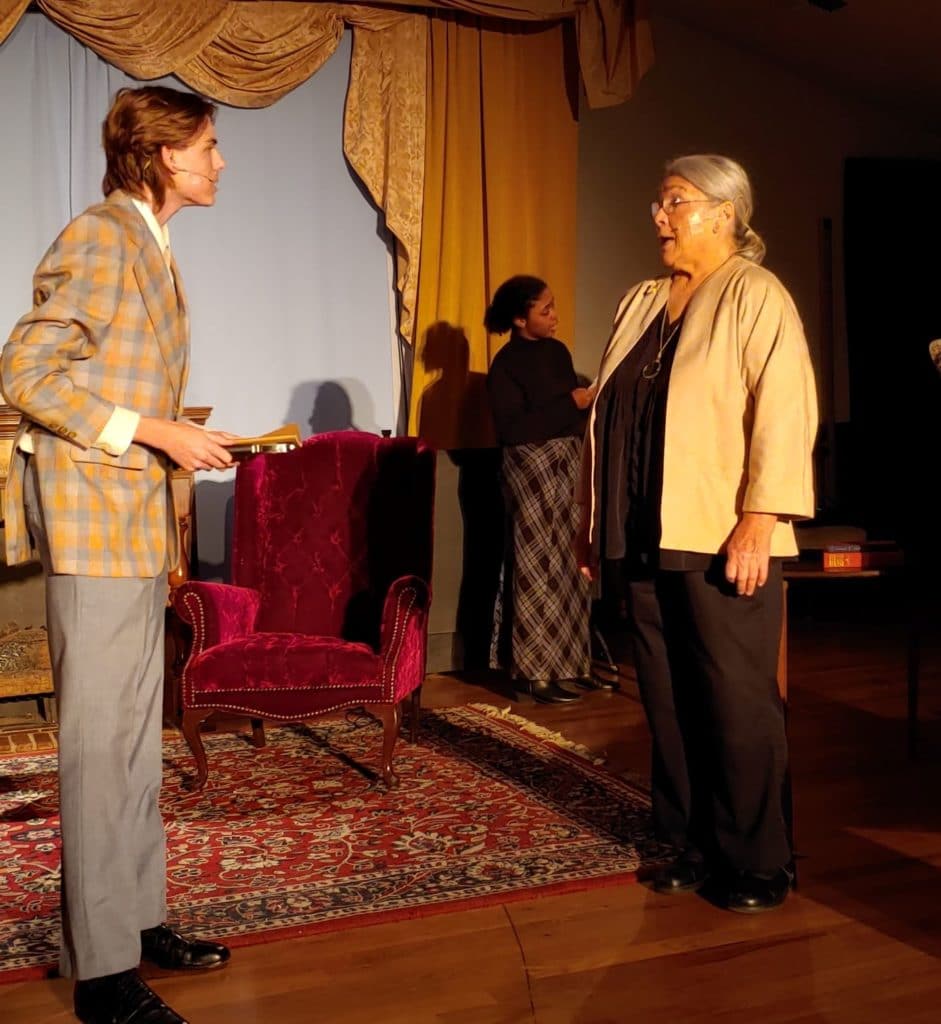 Greg Mys, Jude's father, is the stage manager. It's a big responsibility, but one that he accepts with enthusiasm. He could very well have chosen to act in the play. As a member of Live Oak Theatre Company, he's had a number of roles, such as Daddy Warbucks in "Annie" and the lead in the recent production of "Into the Woods."
"I decided not to act in this play because I thought I'd be more helpful as the stage manager and help with communications and publicity," Greg commented. All the actors, except for one adult, are students. Some have had quite a bit of theatrical experience and some are novices.
For Ann Hines, the sole adult in the show, this play is her first acting experience. One of her reasons for joining the cast was that she is a dedicated volunteer with NAMI. She plays the part of Sandra, the props lady in the play within the play. "She's a frustrated actress. Her character is nervous and diligent about her job. She's also one of the suspects. The kids have been very encouraging to me and I've really enjoyed the experience," Ms. Hines remarked.
Thirteen-year-old Journey Weeks has been acting since he was in 2nd grade at Chocachatti Elementary School. Journey commented, "I think my favorite role has been this one. My character, Robert, is a clumsy guy on the outside, but, on the inside, he's a really smart detective and he solves the mystery."
Eighth grader, Victoria Hernandez is another novice performer. She really got into her character, Elaine – a prima donna type. "She's very dramatic. She likes to think that the world revolves around her," remarked Victoria.
For Tobias Egli, an eighth grade student, this play was only the second one he's done. "I play Luke. The character was supposed to be Lucy, but since they didn't have enough girls, the part became a male part." As any seasoned actor knows, auditioning doesn't always lead to a part and sometimes it doesn't lead to the part you tried out for. This was the case with Tobias, but he didn't let that stop him from getting into character.
Evan Williams, a twelfth grader at Nature Coast High School, has had broad acting experience, both at his school and with Live Oak. Like Jude, Evan would like to pursue a career in theatre and film. He would like to try his hand at directing and producing, as well as acting. "I play Paul, the director of the play within the play. He's self-important and a control freak. He's kind of a jerk and not well-liked."
Eje Walters is part of an acting family that includes his sister, Ellevia, and his brother, Ely. The sixteen-year-old has been acting for five years. He plays Simon, a character that adds comic relief to the play. Although Eje has had a lot of acting experience, he readily admits that this play was a little more challenging than others he's been in. "It's because there are a lot of lines that are similar, but they're said in different ways. There's a lot of back and forth dialogue between the characters. The order of the lines and the memorization was a little more difficult than in other plays," he states.
Twelve-year-old Ellevia Walters has also been acting for six years. She might go into theatre as a career, but is keeping her options open. "I play Allison. She's more serious than the other characters in the play and she's mysterious," remarks Ellevia.
Of course, no performance can be successful without a competent backstage crew. Especially important is sound and lighting. Kyle Marra is the Facility Manager and Executive Producer at Live Oak and was part of the technical crew that handled the sound and lighting for this production. Marra has been with the theatre company since 2014 in various capacities – acting, writing, directing and producing. Marra also has his own film production company and has produced short films and episodes for streaming series.
The entire cast managed to maintain the British accents throughout the play and for most of them, learning the accent wasn't that difficult. Ms. Hines had lived in England as a child for three years and she also loves to watch British TV shows. Journey said he likes to practice doing different accents and Evan's father is British so he grew up hearing the English accent.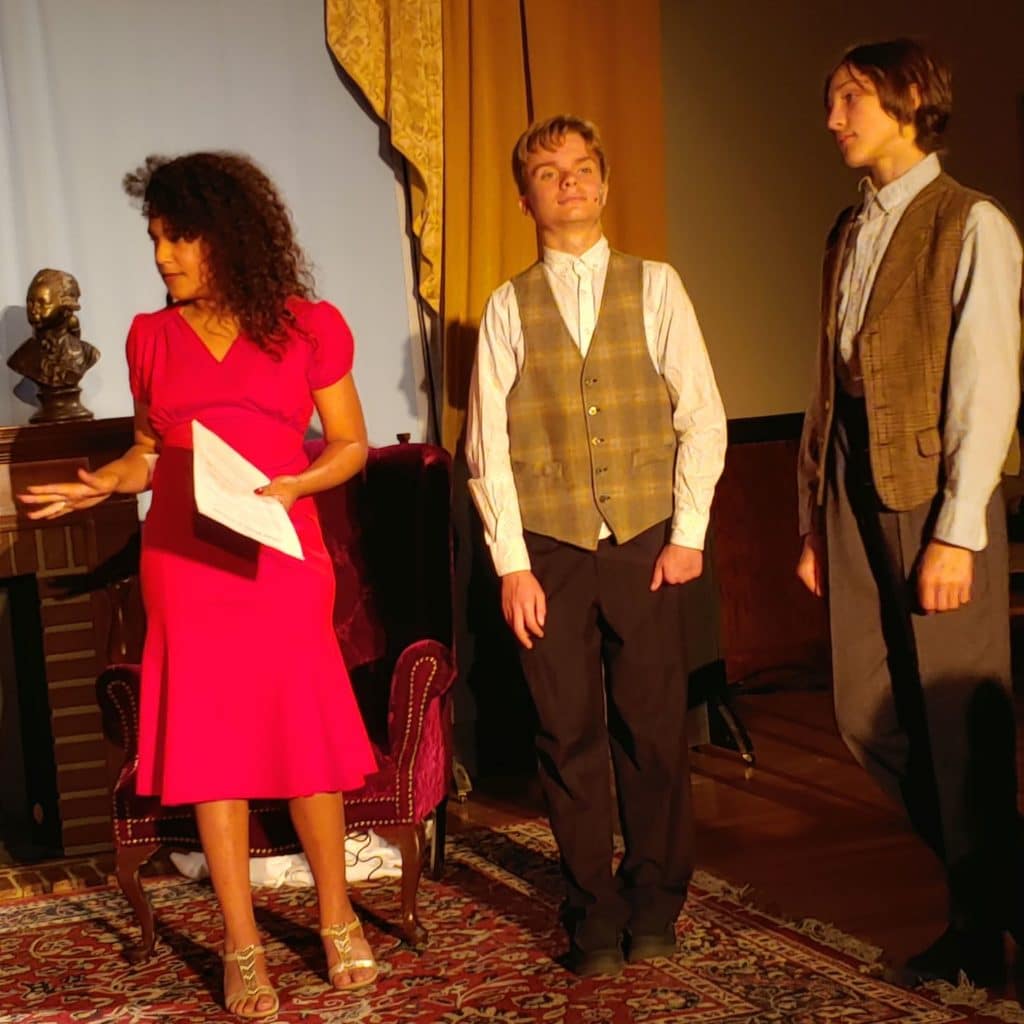 The cast rehearsed for two months and it showed in their two performances on November 27th – one at 2:30 p.m. and one at 7:30 p.m. You could tell by the laughter and applause that the audiences enjoyed the show. It was definitely a labor of love and caring for everyone involved with the play and netted more than $550 for NAMI. The cast and crew also benefited from the theatrical experience, from knowing that they did something to make their community a better place.
For information on the local branch of the National Alliance on Mental Illness call 352-684-0004 or go to https://namihernando.org/about-nami-hernando If you or someone you know is having a mental health crisis, call 1-800-273-8255.
To find out more about Live Oak Theatre Company call 352-593-0270 or log onto www.liveoaktheatre.org.