Lucky number 13. That is where the Hernando High School Boys Varsity Golf team found themselves following the FHSAA State Championship earlier this month. After finishing with a score of 696 in the tournament, Hernando placed 13th in the state to complement their Gulf Coast Eight Conference Championship and undefeated regular season.
Leopards' Head Coach Kevin Bittinger's squad consisted of Gage Richard, Drew Bittinger, Ricardo Maximo Leon, Mikey Garland and Connor Fahey. Leading the way for the Purple and Gold at the state championships was Maximo with a score of 161. However, the Leopards were not a one-trick pony – or cat.
Throughout the season, more than one member of the team showed they could pull their weight on their way to a top 15 finish in the state. The trio of Maximo, Garland and Bittinger would finish the season with All Conference honors to prove it.
When asked about the team's performance on the season, Hernando High Athletic Director Mark Lee echoed this sentiment regarding the Leopards' versatility. "Coach Bittinger did a great job with our young men as they performed at a high level all year," said Lee. "The team always responded well to adversity and always picked each other up if one was having a bad outing."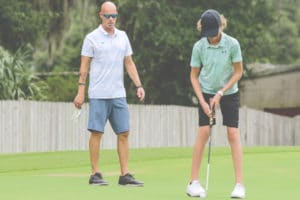 When Coach Bittinger and company traveled to Bradenton for the District tournament, Mikey Garland led the way with a 79. Maximo and Richard shot 80, while Bittinger and Fahey rounded out the five's scoring with an 81 and 84 respectively. This showing proved to be enough to give the Leopards the runner-up title.
Before Districts, Hernando overwhelmed the competition at home with a strong showing from Maximo to win the Gulf Coast Eight Conference Championship. On this day, Maximo scored a conference best 72 while Garland and Bittinger each logged a score of 78. This gave the Purple and Gold an overall score of 307. A commanding 35 strokes better than second place Weeki Wachee with 342, the Leopards displayed the ability to win with different players at Brooksville Country Club.
It was not just the postseason in which they performed admirably, though. On their way to the state championship, the Leopards had an incendiary regular season that saw them finish with a white-hot 18-0 record, defeating strong opponents and listless conference rivals alike. So where does that leave Hernando heading into next season? Despite this strong season, the Leopards are going to see a fair amount of attrition next year.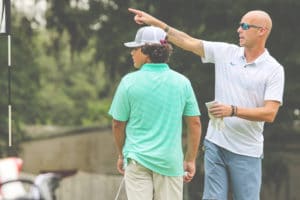 Coach Bittinger remarked on the inevitable changes stating, "We lose our number one and our number four scorers from the team. I will definitely be counting on Michael Garland & Drew Bittinger as seniors to step up and improve the most." While looking ahead, the Leopards' head coach also wants his players to look back and appreciate what they had done as a team. It is a long season filled with ups and downs and perspective is always important. "I thought we had a great season to be able to advance to the state championships," said Bittinger. "I know the boys would have liked to have performed a little better at states, but in hindsight I hope they are proud of what they accomplished this season."