On Saturday, December 18, a group of Hernando County residents representing Glen Lakes Veterans and Friends (GLVF) traveled to Bushnell to participate in Wreaths across America. Their mission was to lay wreaths on the graves of veterans buried at Florida National Cemetery. The seven men and five women set out at zero dark thirty (6:30 am) for the forty minute drive.  "Our group made certain to leave for the cemetery very early, so we could get a good location near the semi-trucks that carry the wreaths," stated Betty Knutson. 
For many of the group this was not their first time participating in this solemn and moving ceremony. "I attended many (Wreaths Across America events) while serving in New Mexico prior to moving here. This was my wife's first experience, which I know had a very profound effect upon her," remarked Gene Knutson.
There were numerous trucks parked throughout the cemetery completely full of wreaths that had been purchased by various organizations. The Boy Scouts and ROTC were stationed at the trucks to handle the passing out of the wreaths. At 10 am, the truck doors were unsealed and the wreaths were distributed to the hundreds of people gathered there to place the large live wreaths on graves of veterans buried there. "It was an amazing sight to see the headstones decorated with green wreaths and red bows!" exclaimed Mrs. Knutson. 
Retired Army Sergeant Major Cori Lombardo and her husband, Randy, were part of the group.  "I've had the honor of participating in Wreaths across America at both Saratoga National  Cemetery and Arlington Cemetery over the years and was so pleased when we recently moved to Florida and were invited to join my GLVF members to honor our fallen comrades. It was an amazing experience," remarked Mrs. Lombardo. 
It was obvious that everyone in the group was moved by the experience and felt honored to be part of this event. "As a veteran it is an opportunity to honor my brothers and sisters with a show of respect and admiration for their service. My personal actions in placing the wreaths are to say the name of the veteran and give a salute to them.  Having their name said means someone has not forgotten them. I felt profound sadness at the passing of the generations who fought in the long-ago wars and determination that their service should not be forgotten. I also said the name of the veteran, told him or her that he or she was not forgotten and their service was appreciated," stated Mr. Knutson.
The group completed the task of laying the wreaths and departed around 10:15.  On the way out of the cemetery, they encountered miles of vehicles waiting to get access to the area. It was later learned that many of the late arrivals had sat in traffic a very long time and the backup on I-75 had stretched ten miles.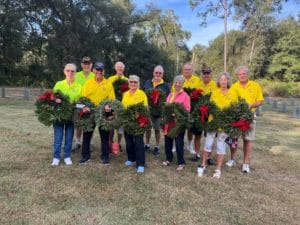 All of this was a testament to one man's project that started in 1992 as a way to use up some leftover Christmas wreaths and his desire to honor our country's veterans. That humble beginning has now mushroomed into more than 2 million wreaths placed in 2,150 locations in the United States and two locations overseas. 
To read a recent article about the Wreaths across America program click on the link below: https://www.hernandosun.com/2021/10/18/wreaths-across-america-program-honors-veterans/
For the complete story of Wreaths across America and information on how you can become involved in this cause go to www.wreathsacrossamerica.org. 
To find out how Glen Lakes Veterans and Friends helps veterans' organizations in Hernando and Citrus counties and to lend your support log onto www.glenlakesvets.org.