Our young people take civics classes sometime during their school years, but nothing can better teach them the way government works than participating in their very own election. On Friday, December 17, nineteen students, each representing their school, chose among five worthy candidates, the one who they thought would best represent their interests on the Hernando County School Board.
Our county is one of only five school districts in Florida that has a student delegate sit on the school board. School Superintendent John Stratton emphasized to the students the importance of their role in voting for the candidate of their choice. Before the votes were cast each of the five seniors running for the office prepared a video outlining their platform. They also presented a short speech summing up what they hoped to accomplish if elected.
Prior to the candidates giving their speeches, Mrs. Tori Hunt, a teacher at Weeki Wachee High School and one of the faculty advisors for the school board student council program addressed the nineteen representatives. Mrs. Hunt is well-versed in the workings of the student delegate program having served as a student delegate herself in 2012 the year the program was implemented.
"Your job is to listen to these student delegates and then you have to make a decision who do you think is going to listen to you and is going to do something [for you]. One day it may be you running for this position and you get to leave a legacy."
Mrs. Hunt reminded them that the delegates' job wasn't done once they left the meeting. She stated that they would need to communicate with whoever gets elected to the position so that their concerns and interests will be brought before the school board. They will work with the faculty advisor at their respective schools, put together a report every two weeks and then send it to the student representative.
Mrs. Ashley Buckey, the other faculty advisor and also a teacher at Weeki Wachee High School has been involved with the student school board representative program since last year. Their role is to work with all the student delegates and prepare them for the election. Each school has an election of representatives for their particular school.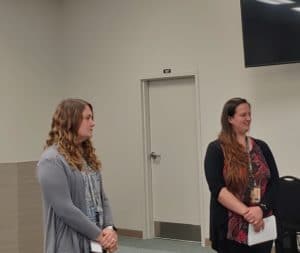 John Carbone from Central High School felt that fundraising by the students was an important goal to increase revenue for the schools.
"I want to see more participation by the students in fundraising efforts−more approachable options. Find out people's interests and likes, their personal opinions, what they like to do. You get those people together and you make something stronger as a team," John stated.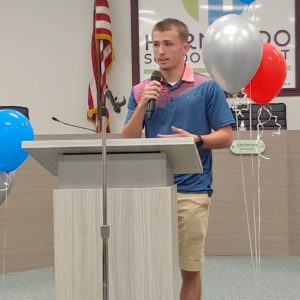 Nathanael Monroe representing Hernando High School felt that increased participation of students on social media would be a good way for the public to know how unique our school district is.
"I see a lot of stuff on social media, but not that much about our students. Our teachers and students are what makes our district. I'd like to start publicizing our students and get them out in the spotlight, posting things that are relevant to school life, things that are being done within our schools and things students are doing individually both in school and out of school, " commented Nathanael.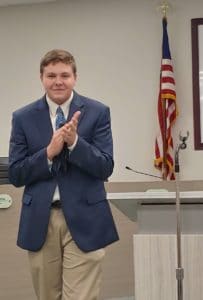 For Brooke Culp, who represented Nature Coast Technical High School, students' mental health is of utmost concern. Currently, teachers are briefed on mental health issues by means of a five-hour PowerPoint and then, in turn, pass the information on to the students.
"In my opinion and in the opinion of most students I've talked to, it's not very effective. My goal is to get away from the online program and bring in real people with real experiences who are certified to talk about mental health and who have those first-hand experiences to speak to students one-on-one. Also, offering on-school resources for students to get help," stated Brooke.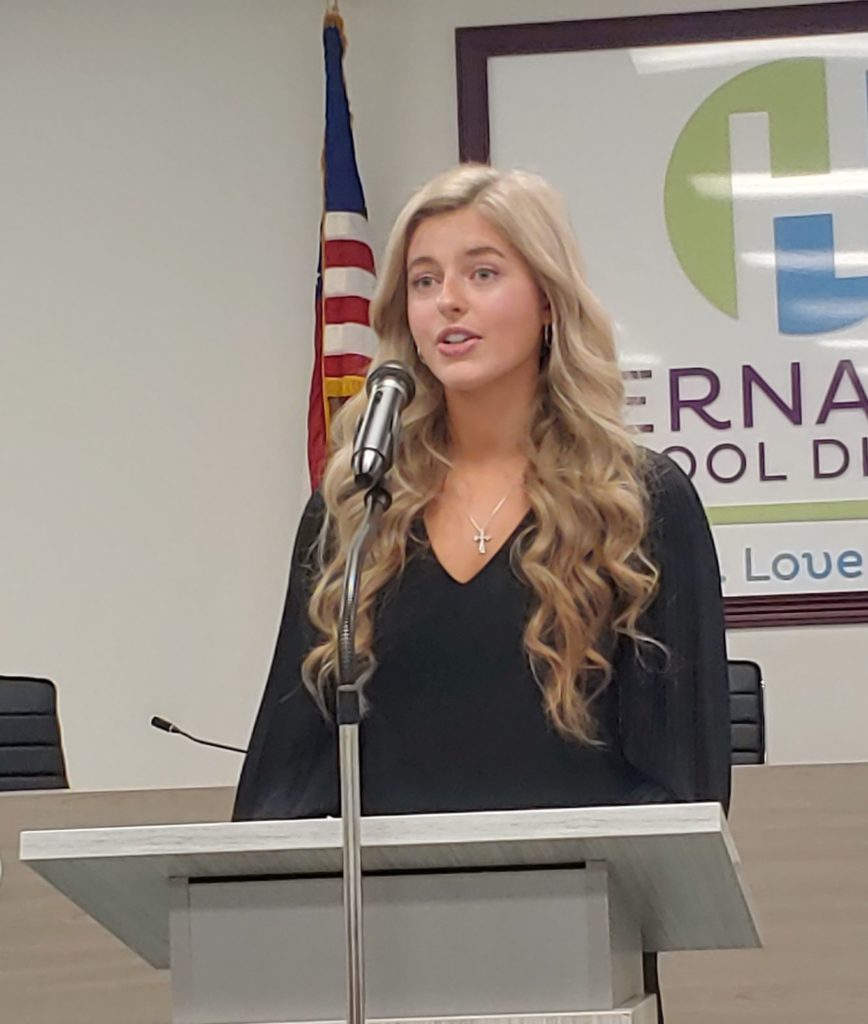 She continued, "Our students know that their grades and their test scores are important, but that's not what they are. They are way more than that. They're human beings with opinions and with voices that matter. Their mental health counts for just as much as their test scores and their grades."
A decline in morale and motivation among teachers and students is the primary concern of Piper Sullivan from Springstead High School. She believes the pandemic has contributed to this.
"It's not only affecting the students, but it's affecting the teachers, as well. The teachers are overwhelmed in trying to get these students back to engaging in the lesson plans," Piper remarked.
She also believes there needs to be advocacy for teachers and students. There should be a more streamlined approach for teachers to voice their concerns to the school board.
"Because this community is so diverse there are needs that we might not see on the surface and with a more streamlined approach this will encourage the teachers to be more motivated to engage their students in learning," Piper continued.
Weeki Wachee High School delegate Haley Sciole feels there should be more interaction between Hernando County Schools and those in other counties. Like Brooke, she believes very strongly that mental health is a major issue. She wants to see a mental health center set up with neighboring counties, as well as have the county provide more student crisis counseling and peer counseling.
"We as students should look out for one another and have healthy outlets where students would feel more comfortable talking with other students. You could have on each campus a group of student volunteers to do this," Haley stated.
While the delegates were casting their ballots, school board member Susan Duval addressed the five candidates.
"You all are winners. There won't just be one winner up there. I expect all of you to have a voice in what happens in this district. We're going to depend on you to provide the leadership to all the younger students. Be bold; have a strong voice; and make a difference."
To the younger students whose job was to vote for the representative, Mrs. Duval had this advice: "Listen and learn because it is our hope that you will continue along the path of leadership. It's critical for our success as a school district to have y'all involved and not be afraid to converse with adults at any level."
When the ballots were counted, Brooke Culp was the winner. Besides her leadership skills, Brooke is interested in theater and film. After graduation, she hopes to attend the University of California Los Angeles and pursue a degree in that field. Who knows, at some point in her life she may use acting as a springboard to political office, as several other well-known politicians have done.