BROOKSVILLE, Florida – Bravera Health Brooksville and Spring Hill announced last month that Brandee Bianco, RN, and Yvonne Claycomb, RN have been selected to receive the hospitals' Nursing Excellence Award.
This peer-nominated award, created in 2020 in honor of the "Year of the Nurse," and in recognition of the critical role nurses have played in treating patients throughout the COVID pandemic, was open to qualifying RNs and LPNs working in a direct patient care position who consistently demonstrate characteristics synonymous with nursing excellence. Due to the success of this recognition effort and the continued battle with the pandemic, Bravera Health has made this an annual event.
Brandee Bianco, RN-Bravera Health Brooksville-was recognized as an energetic and engaged nurse who works to be the best nurse and patient advocate that she can be all the while being an asset to her team. It is not uncommon for her patients to know her by name, share stories of how she makes them comfortable during their stay and is attentive, and takes time to answer their questions thoroughly. Brandee also assists her peers and our physicians with patient care and training needs. With her commitment to the team and profession, she has earned great respect from those she works with and cares for.
Yvonne Claycomb, RN-Bravera Health Spring Hill-joined the Bravera Health team as a new graduate just over a year ago. She is recognized for being a compassionate and caring patient advocate.
Yvonne is able to create relationships based on safety and trust with her patients due to her strong clinical skills.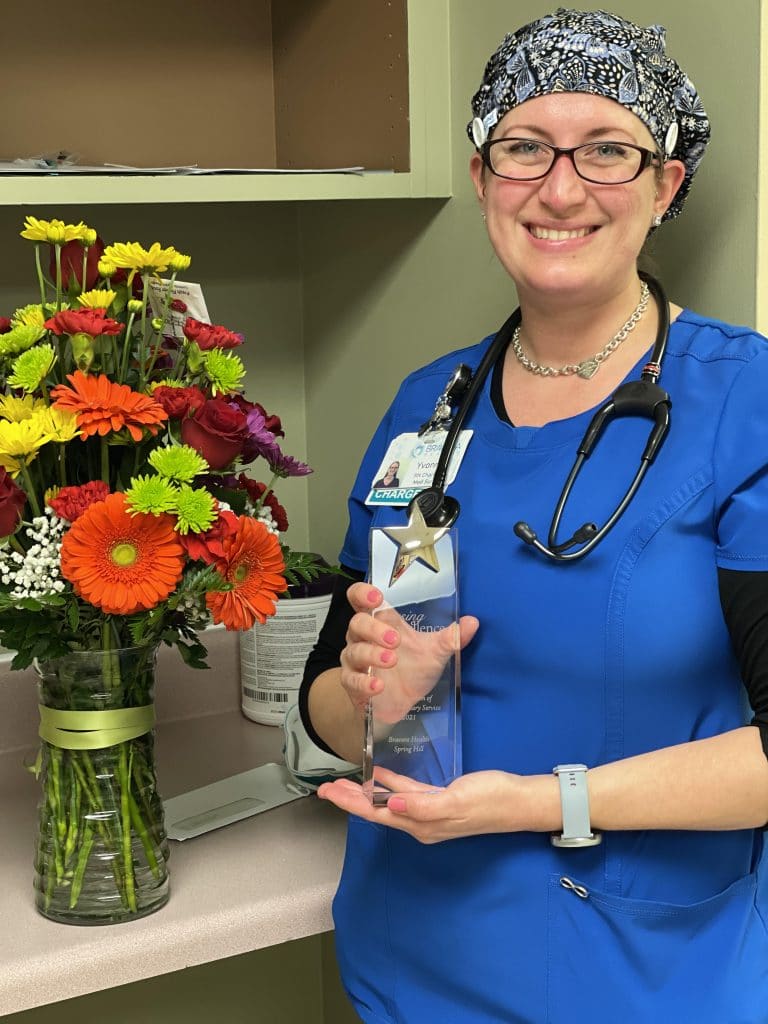 She is invaluable to her teammates as a trainer and is often among the first to volunteer to train others. Yvonne's ability to prioritize relationship building with her patients, their family members, and her team is one her greatest attributes as a nurse.
In addition to receiving the Nursing Excellence Award itself, Brandee and Yvonne received cash prizes, nursing gifts, and the Daisy Award Foundation book, "Shining the Light on all the Right."
Calling all Nurses! You are invited to attend Bravera Health Nursing Hiring Events in February to learn about the exciting opportunities available in your community.
Bravera Health Spring Hill RN/LPN Nursing Hiring Event- OFFERS ON THE SPOT
Date: Wednesday, 2/9
Time: 12pm – 4pm
Location: 10461 Quality Dr., Spring Hill, Fl. 34609; Front Lobby
Bravera Health Brooksville RN/LPN Nursing Hiring Event- OFFERS ON THE SPOT
Date: Tuesday, 2/15
Time: 12pm – 4pm
Location: 17240 Cortez Blvd, Brooksville, FL 34601; First Floor Conference Room
About Bravera Health Brooksville and Bravera Health Spring Hill
Bravera Health Brooksville and Bravera Health Spring Hill are nationally accredited acute care hospitals providing inpatient, outpatient and emergency care services. Bravera Health Brooksville is an Accredited Chest Pain Center with PCI (Percutaneous Coronary Intervention) and Bravera Health Spring Hill is also an Accredited Chest Pain Center as designated by the American College of Cardiology. Both hospitals are Joint Commission certified Primary Stroke Centers. The Bravera Health Network consists of three hospitals that provide a broad range of healthcare services. For more information about our services, visit BraveraHealth.com