While massive wildfires continue to consume upwards of 10,000 acres and force thousands of evacuations throughout Florida's Panhandle, crews from the Hernando County Fire and Emergency Services (HCFES) joined firefighters from throughout the state in battling the blazes.
Earlier this month, a lack of rainfall, strong winds, and overall drought conditions conspired to create a wildfire in Bay County. On March 4, Gov. Ron DeSantis declared a state of emergency there. By the following day, the fires had spread, and DeSantis issued an amended emergency order for Bay, Calhoun, and Gulf counties.
By the following day, about 200 crews from throughout the state and personnel from the Florida National Guard had also joined the firefighting effort.
According to HCFES Division Chief of EMS and public information officer (PIO) Kenneth D. Wannen, on March 5, HCFES crews were deployed to Bay County as part of a strike team composed of engines from Pinellas and Pasco counties and from The Villages.
"Captain Gibson Driver Engineer Brandt, FF Kyle Briscoe, and FF Vogel of Engine 7 joined up with Engines from Pasco, The Villages, and Pinellas County to render aid," Wannen said in a post on the HCFES Facebook page.
The Hernando County crews will be deployed in the wildfire region for "up to 5 days," the post said.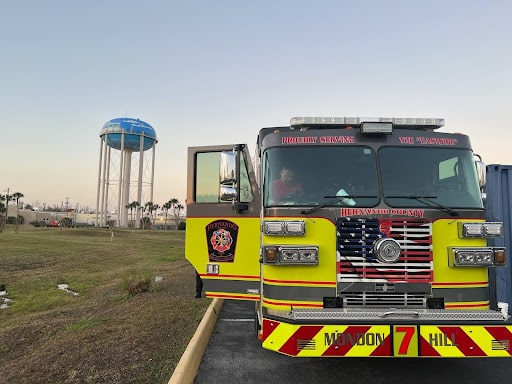 According to the Florida Forest Service, a total of 171 wildfires were burning and had scorched 15,000 acres across the region by March 7.