Judge Kristie M. Healis of Brooksville has been named to serve as Judge on the Fifth Judicial Circuit Court by Gov. Ron DeSantis. She will fill the judicial vacancy created by the retirement of Judge William H. "Bud" Hallman, III.
A resident of Brooksville, Healis has served as a Hernando County Court Judge since 2017. Before joining the court, she was in private practice for 11 years.
She holds a bachelor's degree from Plymouth State University, and earned her legal degree at the Rutgers School of Law.
Healis said that she was honored to receive the appointment.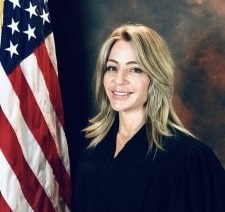 "I am truly honored to be appointed to the Circuit Court and thankful to our Governor for this opportunity to serve my community and the people of the Fifth Judicial Circuit," she said.
According to DeSantis Press Secretary Christina Pushaw, the Hernando County Court post left vacant by Healis' appointment, will be filled after candidates are nominated and vetted by the Judicial Nominating Commission (JNC).
"Upon notification of a vacancy, the Governor requests the Chair of the JNC to convene the JNC for the purpose of selecting and submitting names of qualified individuals to the Governor for appointment to the bench," she said. "The JNC investigates each applicant to confirm eligibility."
After interviewing each eligible applicant, the JNC decides by majority vote which of them should be recommended to DeSantis.
"The JNC has no more than 60 days from the time it is requested to convene to nominate no fewer than three and no more than six applicants to the Governor," Pushaw said. "The Governor has 60 days to appoint a judge from among the nominees."
Exactly who will apply for the Hernando County Court vacancy left by Healis' appointment is still unknown, Pushaw said.
"We do not yet have a short list because the JNC still needs to select and vet the candidates for the governor's consideration," she said. "We do not have a set timeline for these."