What would you do with a "free" Sunday afternoon? Would you just watch TV or use your phone or computer? Would you go outside or stay in? There are endless possibilities!
In February I was given copies of 16 pieces of mail from WWII. They were personal letters and V-mails written by my Uncle John to his sister Sue. That's Aunt Sue to me! She was one of my Mom's sisters and John was the only brother. I'm glad Aunt Sue didn't throw stuff away because I know exactly what my uncle did 80 years ago with a "free" Sunday afternoon. He wrote letters home!
Uncle John entered the Army on May 4, 1942. He was stationed about 40 miles west of London. His base (we think) was Wycombe Abbey, in High Wycombe, England. He was a 30 year old drafting teacher for the Chicago school system. Now his skills would be useful in the military. How could he help them? He did maps, drawings, and other paperwork. I can only guess the extent of his "secret" duties and wartime work. Due to censorship he couldn't write about it.
Cousin Janice, in charge of the letters, sent everything to me just before my 70th birthday. What a gift! The letters and V-mails were all dated between October 1942 and August 1944. They revealed bits of time during WWII. They showed a very personal side of my uncle that I never knew existed.
Letters during WWII were a main form of communication. Uncle John wrote at least a dozen letters per week. He did most of them the old fashioned way with pen and paper, envelope and stamp. His letters varied from four short pages to eight or ten. We never saw some others that were reported to be as long as eighteen pages! He wrote weekly to family, friends, and neighbors. He also made sure that his wife Mil heard from him several times. They had been married less than two years. She was his sweetheart and the darling of his life. So, how many letters did he write between 1942 and 1945? As a guess—-at least 2,000!
What would he write? He shared what he could about his daily life. He mentioned everyday chores like doing some laundry or mending his own clothes. Every few weeks he had to work in the Army kitchen.
November 19, 1942……."Saturday I worked in K.P.–my fifth time. Every two weeks my turn comes up and I have to do my share of the work. I helped the cooks in the morning making hamburgers–in the afternoon I peeled potatoes–in the evening I washed pots and pans. In some ways it's not so bad but a person doesn't feel much like going out when you do put in a full day of it."
August 31, 1943…."As far as handkerchiefs and socks–well, you know. I always do need socks since it isn't long before I put a hole in them. I have been doing my own darning and washing my own handkerchiefs due to the fact I have only 9 and could not risk losing one in the laundry. I have already lost one of your brown ones somewhere. We have a good laundry set up now–our dry cleaning we get in two days and our laundry in a week. All our clothes are marked now, so our chances are fairly small in losing them."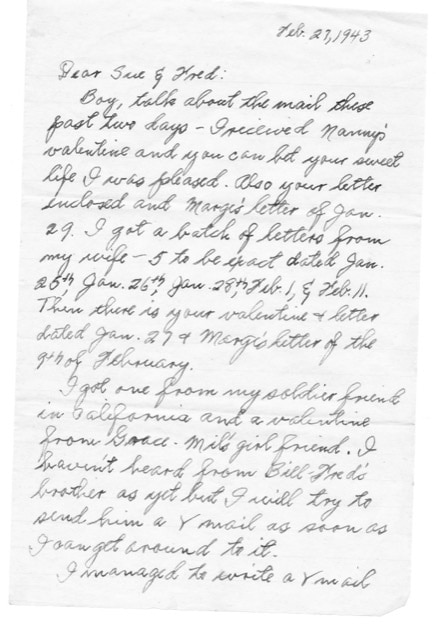 He spoke of meals. They ate well in the Army. He often mentioned that he had better food than you would get on the outside.
November 28, 1942… "I bet you had turkey for Thanksgiving. Well, we may not have had that, but we did have a wonderful meal—my favorite, too—pork chops, sweet potatoes, peas, celery, applesauce, fruitcake in rum, candy, coffee, and fruit. I'll tell you I was well filled–and lazy–so lazy I didn't feel like moving." We can all relate to that!
April 4, 1943… "Today's dinner was delicious…We had roast pork, applesauce, peas, potatoes, bread and butter, and coffee-and for dessert chocolate ice cream (which our cooks make and have it frozen in town somewhere)…. with pineapple cubes on top……. Supper wasn't bad–although a cold one–had potato salad which I didn't eat, canned corn beef, cold pork and beans, bread and butter, ice cream (leftover from noon), and peaches and coffee."
I re-read the Thanksgiving 1942 letter. It's hard when I get to the part where Uncle John thought this war would be short-lived. He'd hoped to be home before another holiday season rolled around.
November 28, 1942… "However, I have a hunch by next Thanksgiving the whole thing will be over. All indications point to that—hope they are correct." He didn't know at the time that he would spend two more Thanksgivings away from home!
During the war, he would miss three wedding anniversaries. He'd spend three Christmases away from those he loved.