Currently all of Hernando County is represented by Daniel Webster (Rep Clermont) in the US House of Representatives. His district is District 11 which includes Hernando, Citrus, Sumter, and portions of Lake and Marion counties.
After redistricting, Webster remains the representative for District 11, but Hernando County is no longer in District 11. Hernando County now falls into District 12.
The current District 12 includes all of Pasco and northern parts of Hillsborough and Pinellas counties and is represented by Gus Bilirakis. Even with the new boundaries for District 12, Bilirakis from Palm Harbor has decided to run as the incumbent for District 12 in the 2022 November election.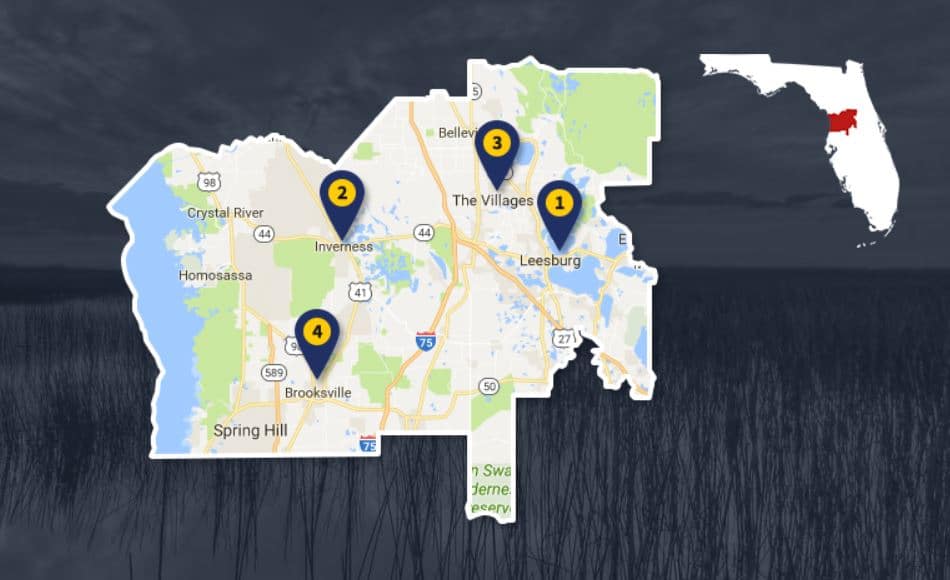 The new District 12 now includes all of Hernando and Citrus counties but removes Pinellas County. While Bilirakis is from Palm Harbor in Pinellas County, he is still running for re-election for District 12.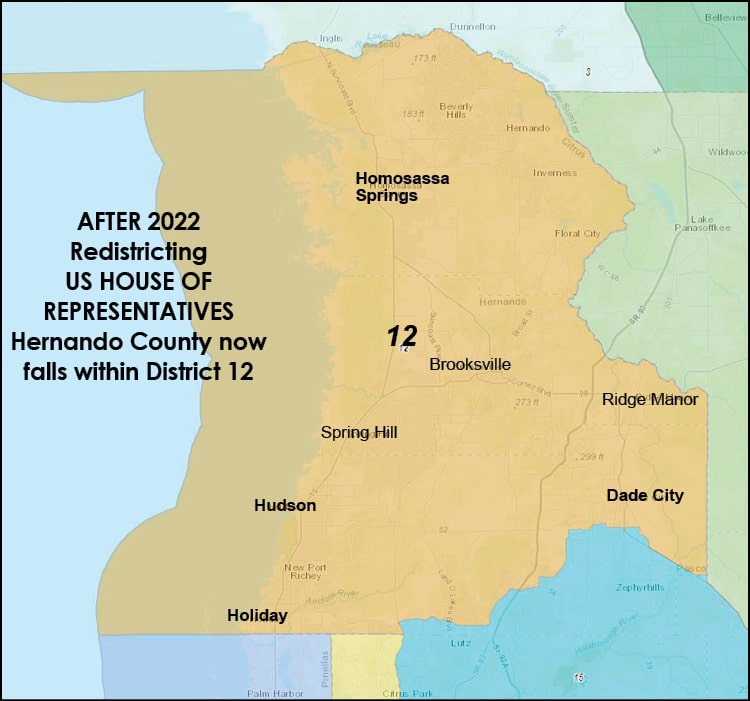 There is no requirement for a member of the US House of Representatives to live within the District. They must be at least 25 years of age and a resident of the state they are representing.
Gus Bilirakis is running against the following candidates in the Republican Primary on Aug. 23, 2022: Michael Carnevale, Jack Martin, Brian Perras, Sid Preskitt.
Kimberly Walker is the only Democratic candidate listed for the Aug. 23 Primary.
Currently, Hernando County is situated in District 10 for the Florida Senate, represented by Wilton Simpson. District 10 includes all of Citrus and Hernando counties plus a large portion of Pasco County to the north and through the center of the county. Simpson is running for Florida Agriculture Commissioner in the 2022 election.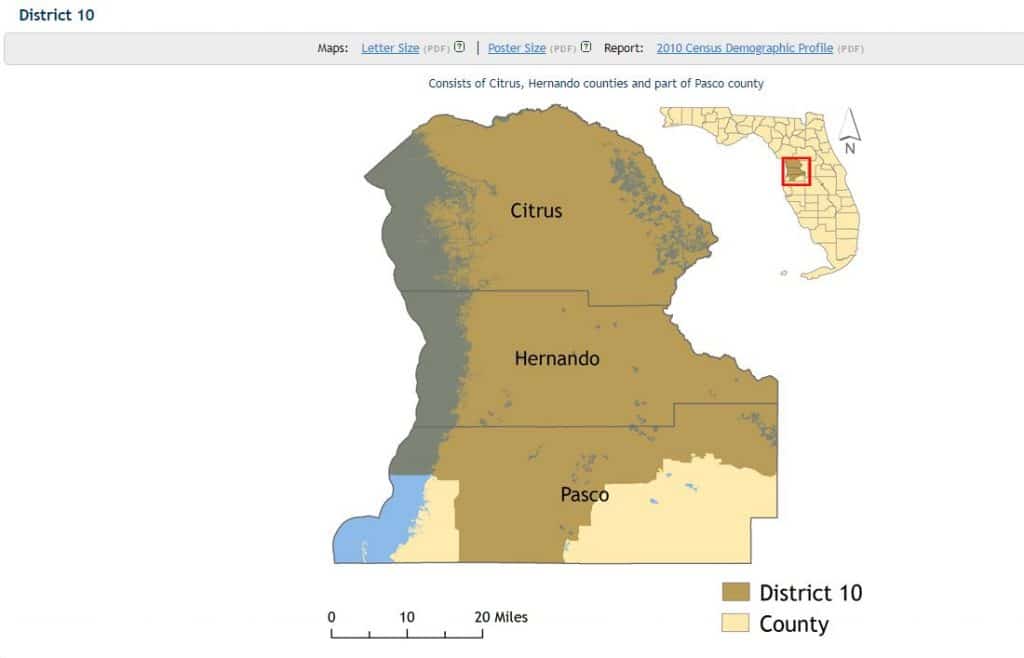 After redistricting, Hernando County lies in District 11 for the Florida Senate. District 11 includes all of Citrus, Hernando and Sumter counties plus a very small portion of western Pasco County. Blaise Ingoglia (Rep Spring Hill), currently the State Rep for District 35, is running for Florida Senate District 11. He is the only candidate listed on the Florida Department of State website.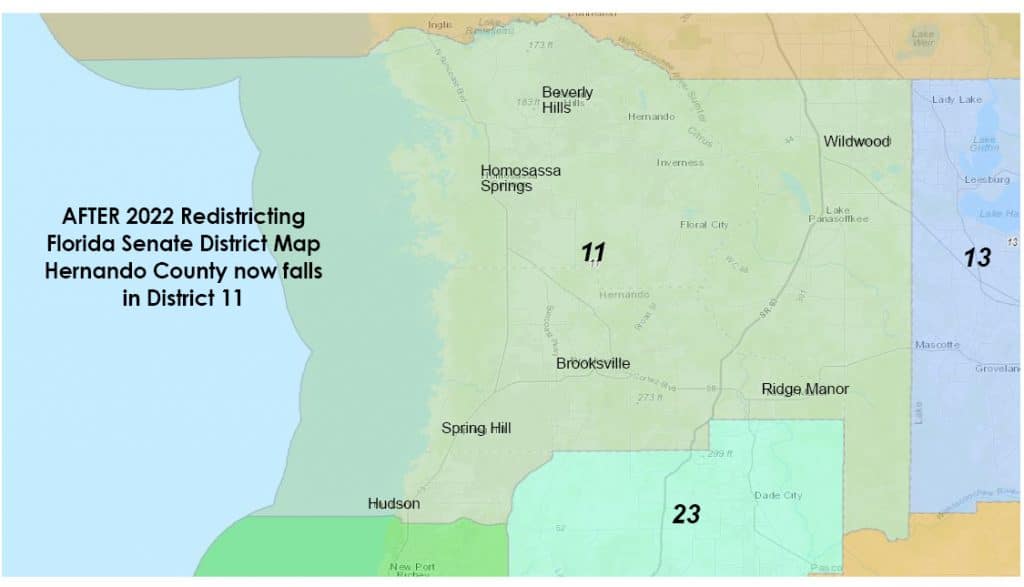 Currently, much of Hernando County lies in Florida House of Representatives District 35, represented by Blaise Ingoglia. A northwestern portion of Hernando County lies in District 34 and is represented by Ralph Massullo.
[pdf-embedder url="https://www.hernandosun.com/wp-content/uploads/2022/05/HD_35_34.pdf" title="BEFORE 2022 Redistricting- Fl House of Rep."]
After redistricting, Hernando County is split in half lengthwise between two districts for the Florida House of Representatives. The dividing line is the Suncoast Parkway. East of the Suncoast, Hernando County is part of District 52. District 52 also includes all of Sumter County. West of the Suncoast Parkway, Hernando County falls into District 53, which is also comprised of a portion of Pasco County.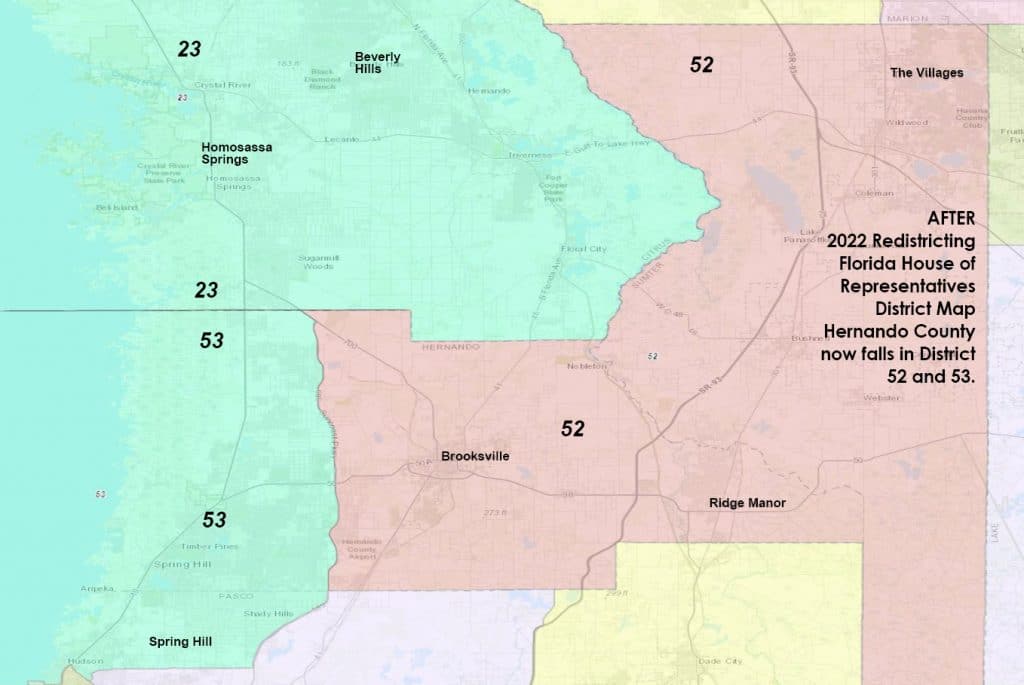 Currently registered as candidates for House of Representatives District 52 for the 2022 election cycle are:
Altman, Thad (REP) *Incumbent
Curtis, Andrew Marc (REP)
Dazé, William Rock (REP)
Langevin, Chandler Austin (REP)
Marwah, Ashok "Ash" K. (DEM)
Temple, John (REP)
Currently registered as candidates for House of Representatives District 53 for the 2022 election cycle are:
Cruse Jr., Irvin Lee (REP)
Holcomb, Jeff (REP)
Kocovic, Anthony (REP)
Laufenberg, Keith G (DEM)
The new maps for the Florida House and Senate were approved by the Legislature in February. In March, the Florida Supreme Court deemed the state house and state senate maps valid pursuant to their constitutional review.
Gov. DeSantis initially vetoed the US House of Representative maps approved by the Legislature during the regular session. A special session was held last month during which new maps for the US House of Representatives were approved and then signed into law April 22. There has been pushback on the new map boundaries relating to Congressional District 5 and opponents are seeking to get the map boundaries changed through the judicial system.