Brooksville Main Street is inviting the community to escape the rigors of everyday life and experience the beauty of the Yuletide via the Festival of Trees! This will be a beautiful and sparkling collection of about 15 to 20 decorated Christmas trees personally adorned by businesses and organizations in the City of Brooksville. Admission is free for this festive display, running November 16th – 28th, starting 11 am at the Teen Hall in the Florida's Adventure Coast Brooksville Welcome Center, 205 E Fort Dade Ave., Brooksville.
"This is an opportunity for the public to come in, relax, and just celebrate this time of year," said Natalie Kahler, executive director of Brooksville Main Street.
And while they lose themselves in the splendor of Christmas, visitors just might find the tree or wreath that will adorn their own home or business this year. Indeed, the adorned greenery featured in the Festival of Trees will be made available to the public via a silent auction. All proceeds from this auction will go to the Brooksville Main Street program to help support its mission to revitalize historic downtown Brooksville.
Kahler shared that the proceeds will go to support a variety of Main Street downtown projects, including a full array of arts projects.
Between the tree display and the auction, Kahler believes that the Festival of Trees is sure to inspire visitors in the creation of their own holiday decorative schemes.
"Those who see these trees, even if they don't buy one, might be inspired with some beautiful ideas for their own holiday decor," said Kahler. "They might find the perfect tree at the auction. Or a wreath might be a great option for those who don't need a tree but would like a new festive decoration!"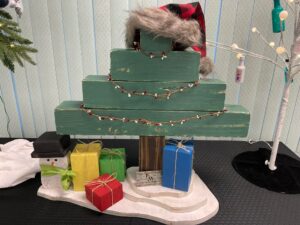 In designing their trees, artists are encouraged to create a design that might represent their brand, or perhaps simply something that's festive in theme. "So many people around here just love to create," said Kahler.
One Festival of Trees returning artist, Lindsay Morgan of Coastal Engineering Associates, feels that her and her company's participation in Festival of the Trees is a true show of community spirit. "Coastal Engineering Associates, Inc. has been in business in Brooksville since 1958. Our president/owner is a lifelong Brooksvillian and has always been involved throughout Brooksville and the Nature Coast area," she said. "When the Festival of Trees was started, I was fortunate to have the opportunity to participate through our company. Also being a lifelong Brooksvillian, I too have been actively involved within our community through various non-profit organizations my entire adult life — I love being able to volunteer and give back in my hometown."
Morgan brings both enthusiasm and creativity to her yearly designs, which according to Kahler always rank among the most popular within the community. "I have always had a passion for event planning and decorating. My first tree for this event was in 2019, it has been an honor to decorate a tree each year to raise money for Brooksville Main Street," she said. "The last few years have been so much fun to plan and create a new theme, colors, and feel while still adding my southern touch. I feel blessed that my trees have led to meeting new people, who are now friends, and has allowed me to design trees for their homes."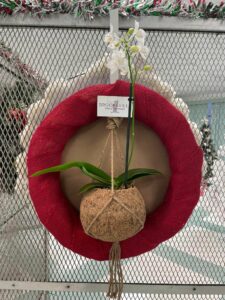 Sam Forrester of Forrester Made creates an exquisite brand of carved tree that are also quite popular with festival attendants. "This will be our third official submission for the Festival of Trees. We love being a part of the festival because Brooksville Main Street uses the money raised from the trees to help beautify Brooksville through a wide variety of projects, most of which can be found on their website or social media accounts," he said. "At Forrester Made we do a wide variety of rustic style pieces and bring that concept to our trees. This year's tree is themed but you'll have to see it in person to understand why it can be put on display well before Christmas Time."
Festival of Trees traditionally has featured a colorful assortment of ebulliently adorned trees, trimmed with everything from glistening ornament balls to brilliant lights, ribbons and bows to baby's breath, top hats to Santa hats. Yet while these diversely decorated trees vary greatly in look and theme, they all tend to have the same effect on festival guests.
"When you see a Christmas tree, you have the same magical feeling as when you hear Christmas music and see the bright lights," said Kahler. "It all reminds you that it's that time of year."