WRESTLING STATE CHAMPIONSHIPS PART 2
After a grueling three days of wrestling competitors from across the state, the Hernando Leopards saw two of their wrestlers – Grace Leota and Devin Williams – atop the podium in the Silver Spurs Arena in Kissimmee on Saturday, March 4. Twelve competitors represented the Leopards at the FHSAA State Championships, and Head Coach David Pritz's squad finished with five state placers in addition to the pair of champions. According to the veteran Hernando coach, not only was it the best showing the team has had all year, but it is also the most placers the team has had in the state competition since he was tasked with leading the Purple and Gold 11 years ago. Needless to say, Hernando had the most fruitful showing of the Hernando County schools at this year's state wrestling championships. Not only was it dominant, but the school's performance was also historic.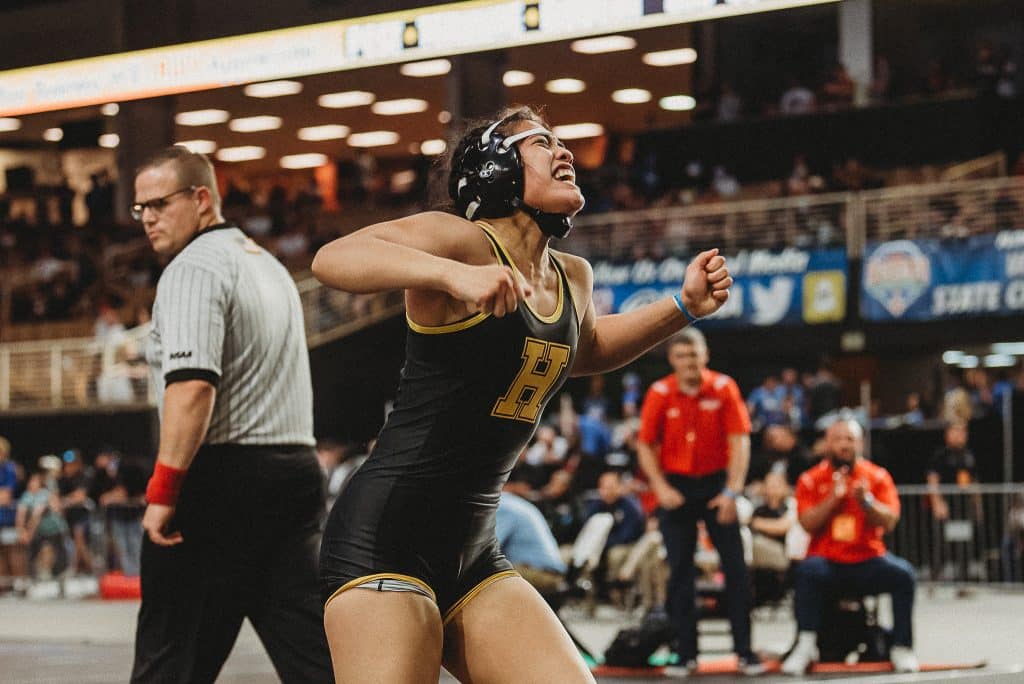 "So Grace was first ever girls state champ in Hernando High history, Hernando County history," Coach Pritz said. "She was dominant all year. 35-0 and dominant in state finals. Pinned a girl in the state finals, but she's an incredibly hard worker. Did exactly what I thought she was going to do."
With the win over Freedom's Salexa Lontoc-Ortiz, the sophomore became the district, region, and state champion in the 170 weight class. Besides simply being a skilled wrestler, Grace is also a student leader at Hernando with The Fellowship of Christian Athletes. As she was involved with FCA before she moved with her family to Florida, she decided to continue her role with the program even as she has been home-schooled. The timing was serendipitous as the FCA had recently opened a new chapter in the area over the last year, which coincided with the sophomore's arrival. Despite her impressive record and accolades, Grace was down to earth and honest about the expectations that come with being a favorite, as well as how important this victory was.
"Everyone expected me to take first, so I knew if I didn't win, it would be a big upset," Grace said. "I also had my own doubts. I've choked at a big tournament before, and I didn't want that to happen again… I was relieved because I had wrestled my opponent a couple of times during the season, and even though I had already beaten her before, I knew this is when it would really matter. I knew she was tough and she would come out with something big, so I am thankful my coaches prepared me for it."
Moving forward for the talented wrestler, Grace plans to compete in a variety of tournaments spanning the country over the coming months. These include the Women's Nationals in Washington, the High School Nationals in Virginia, and the Fargo Nationals in North Dakota. Her goal is to be a state champion in every one of these competitions when all is said and done.
Senior Devin Williams' (41-3) path to a 1A 285 state championship had one final challenge to throw his way as he faced the wrestler he had lost to in the tournament last year – First Baptist's Caleb Rodriguez. Due to this history, Coach Pritz was candid that they were hoping to cross paths with Rodriguez again this year. Clearly, Williams came ready to play as he blanked Rodriguez in a low scoring 4-0 bout to exact his revenge.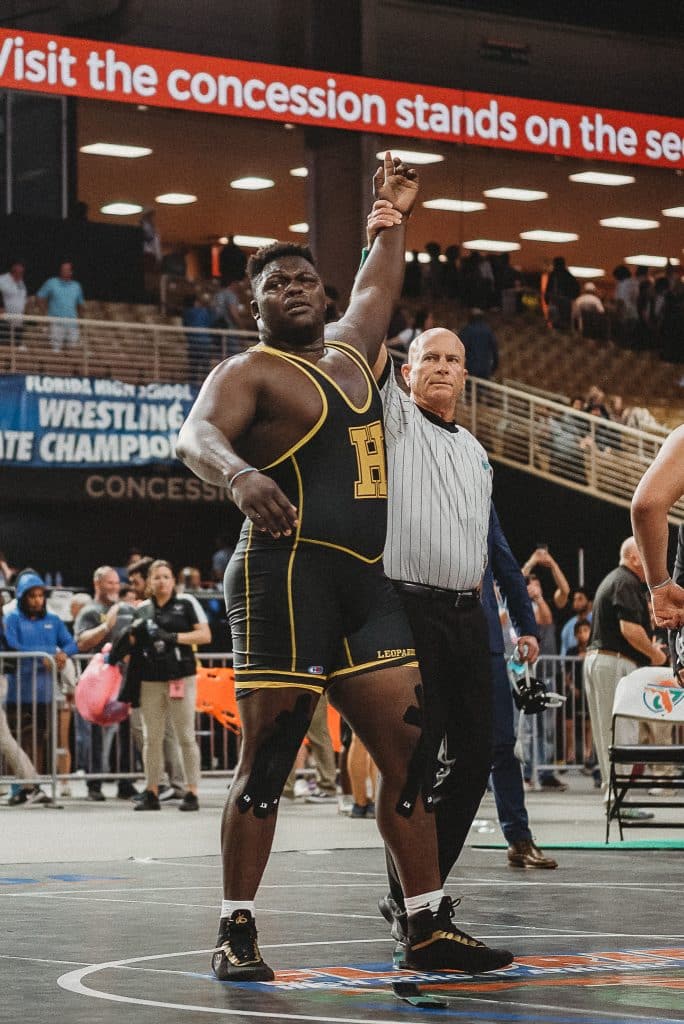 "Devin winning the state title against the kid that beat him the year before, that was the match we wanted all season," the Hernando coach stated. "So, that was a big bout for him, and he was a senior going out as a state champion. I think that was huge."
Another wrestler Coach Pritz singled out was Senior James Gadson (44-11). While Gadson placed fourth in the tournament, his coach commended his hard work and effort. As most kids get started wrestling at an early age, Gadson started when he was a freshman. So, despite beginning his career at a potential disadvantage compared to his peers, the senior still managed to advance deep into the tournament. "He's kind of like the perfect example I can use going forward if you really show up to all the practices during the offseason," Coach Pritz said.
2023 Wrestling State Championships, Hernando High School
Senior Jordyn Valle (38-9) also placed fourth, but in the 1A 120 weight class when he lost by a 14-8 margin in the third-place match to Suwannee's Topher Pearson. Seniors Jayshawn Nantce and TJ Rodier placed sixth in their weight classes – 1A 195 and 1A 138, respectively – while Sophomore Olivia Brown (26-11) placed eighth in the 145 weight class over the weekend. The other five Leopards who made the trip include Freshman Shaw Garrett, Sophomore Kenneth Pritz, Junior Kyle Pearson, Sophomore Mariah Earl, and Sophomore Makenzie Eltzroth. Though these players were unable to secure any hardware or accolades, all players represented the strong contingent of Purple and Gold well in Kissimmee. Coach Pritz had nothing but praise for how his players performed at the Silver Spurs Arena.
"I believe our team can compete with the best teams in the state as long as we can control those things, and they did a really good job doing that this weekend… I've been telling everyone that in the 11 years I coached, that was my favorite coaching experience I've ever coached," Coach Pritz said. "The whole tournament. The guys wrestled out of their minds – the guys and girls. Our girls' team did amazing; our guys' team did amazing. I'm super excited for the future."