An age-old golden yellow medicinal herb thousands of years old, turmeric is good to eat, relieve pain, reduce inflammation and promote healing
There's nothing new about turmeric — you know, that bright yellow spice often used in curries, mustards, and golden milk lattes. Turmeric is currently enjoying the limelight as a superfood, either fresh or in easy-to-take supplements. Touted for its anti-inflammatory and antioxidant properties, it's being hailed as a natural defense against cancer, Alzheimer's disease, arthritis, digestive disorders, respiratory infections, allergies, liver disease, and depression, to name but a few. Millions and millions of people use turmeric daily. It's been used as a medicinal herb for over 4,000 years and is a cornerstone of an Indian alternative medicine practice called Ayurveda.
In India, it was traditionally used for disorders of the skin, upper respiratory tract, joints, and digestive system.
Turmeric is a plant native to Southeast Asia; it has a finger-like root structure strongly resembling ginger, and in fact, turmeric and ginger are part of the same family (Zingiberaceae).
Used mostly as a cooking spice, turmeric is rich in vitamin C, vitamin B6, and other antioxidants that can reduce the risk of serious health conditions like heart disease and diabetes. It's often described as having a bittersweet taste — very bitter. The active compound in turmeric is a substance called curcumin, and research has shown it acts as an antioxidant and helps in cases of inflammation and soreness.
In addition, turmeric is an excellent source of manganese, iron, potassium and omega-3 fatty acids.
According to the National Institute of Health, studies show that turmeric's good effects are based on the amount of curcumin taken, and recommend consuming between 500 and 1,000 milligrams of curcumin a day.
Two teaspoons of fresh turmeric contain around 400 milligrams of curcumin, but this amount can vary depending on the spice's quality. Supplements, therefore, are a popular alternative and provide more accurate amounts of curcumin. Always choose doctor-recommended brands.
Ways to introduce turmeric into your diet
Use a pinch of turmeric in scrambled eggs or a frittata; sprinkle it on cauliflower, potatoes, and root vegetables and roast in the oven; add a dash of turmeric to rice. It brings color and a mild flavor to plain rice or a pilaf; add a teaspoon of fresh turmeric to a bowl of soup; simmer in coconut milk and honey to make tea or blend with milk for a golden latte.
To get even more of the health benefits of turmeric, adding cracked pepper to the mix significantly increases its effectiveness.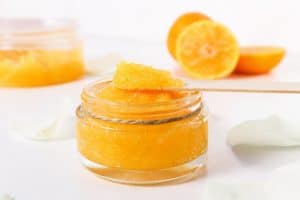 Turmeric for your skin:
Adding turmeric to your skincare routine has anti-inflammatory, antimicrobial and antioxidant effects.
Ingredients:
1/4 Cup Olive Oil
10-15 drops Lavender Essential Oil
Turmeric Powder
Directions: Place Olive oil in a small glass jar. Add in the essential oil drops and stir
Place 1 TB of turmeric powder at a time and stir into the oil mixture. Continue adding 1 TB of turmeric powder and stir until a paste is formed.
Seal and store in a cool, dry place for up to 1 month
Use for sores, shingles, chicken pox, burns or bug bites. Can be used on most skin irritations to reduce inflammation and provide quick skin repair.
If refrigerated, the jar will last up to three weeks. Be careful when using this paste, as it can stain your clothing.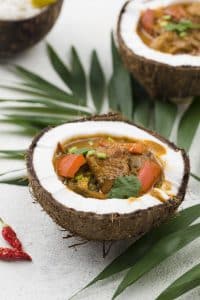 Thai Coconut Chicken Curry Recipe:
Ingredients:
For the paste: 4 cloves of garlic, one teaspoon of fresh turmeric, one tablespoon of fresh
ginger, four small hot green or red chilies
Spices: 2 teaspoons of ground turmeric, one teaspoon of ground cumin, 1/4 tsp ground cloves, two teaspoons of ground coriander, six cardamom pods cracked, 12 curry leaves
One onion,
One tablespoon of vegetable oil
One lb of chicken breast
16 oz. Can of coconut milk
Cup of chicken stock;
Juice of one lime
Directions: Using a mortar and pestle, pound the garlic, chili, ginger, and turmeric into a paste. Heat oil in a deep pan over medium heat. Cook onion until softened, then add the chili paste and cook, stirring, for 3 to 4 minutes until fragrant. Add spices and curry leaves, and cook, stirring, for a further 2 minutes. Add the chicken pieces and cook for another 4 minutes, then add coconut milk and stock and bring to a simmer.
Continue to cook, occasionally stirring, for another 10 minutes or until slightly reduced. Remove from the heat. Season with lime juice and salt.
Serve curry with Jasmine or Basmati rice, topped with fresh coriander and optional deep-fried curry leaves.
All ingredients can be purchased at HL Asia Supermarket on Commercial Way, Spring Hill, or your local Asian food store.