Those with ties to the Chinese Communist Party (CCP) are forbidden from purchasing agricultural land in Florida under legislation signed by Gov. Ron DeSantis on Monday. The measure also forbids those who are CCP-affiliated from buying property within 10 miles of critical infrastructure, including military installations, airports, telecom system installations, and power plants.
"Because we believe that protecting our food supply is a security issue, we want to make sure that our agricultural land is not compromised by CCP influence," DeSantis said during a May 8 signing event at the American Aviation Flight Academy in Brooksville.
Sen. Blaise Ingoglia (R-Spring Hill) and Rep. Jeff Holcomb (R-Spring Hill), and Hernando County Sheriff Al Nienhuis also attended the event along with many other local dignitaries.
Specifically, SB 264, Interests of Foreign Countries, restricts governmental entities from contracting with foreign countries and entities of concern, including the People's Republic of China, the Russian Federation, the Islamic Republic of Iran, the Democratic People's Republic of Korea, the Republic of Cuba, the Venezuelan regime of Nicolás Maduro, or the Syrian Arab Republic, and restricts conveyances of agricultural lands and other interests in real property to foreign principals, the People's Republic of China, and other entities and persons that are affiliated with them.
The measure allows Chinese citizens with non-tourist visas to buy single land parcels, two acres or smaller, that are at least five miles from military installations or other critical infrastructure. Chinese Americans and those who are permanent residents of the U.S. are exempt from the ban.
Former Florida Senate President, now Secretary of Agriculture Wilton Simpson, said that the measure is key to protecting the security of the state's food supply.
"When it comes to food, we don't always think of it as a national security issue," Simpson said. "So I challenged everyone to think what would happen if there was one week of no groceries in the grocery store – you'd have chaos – in two weeks, you'd have total chaos."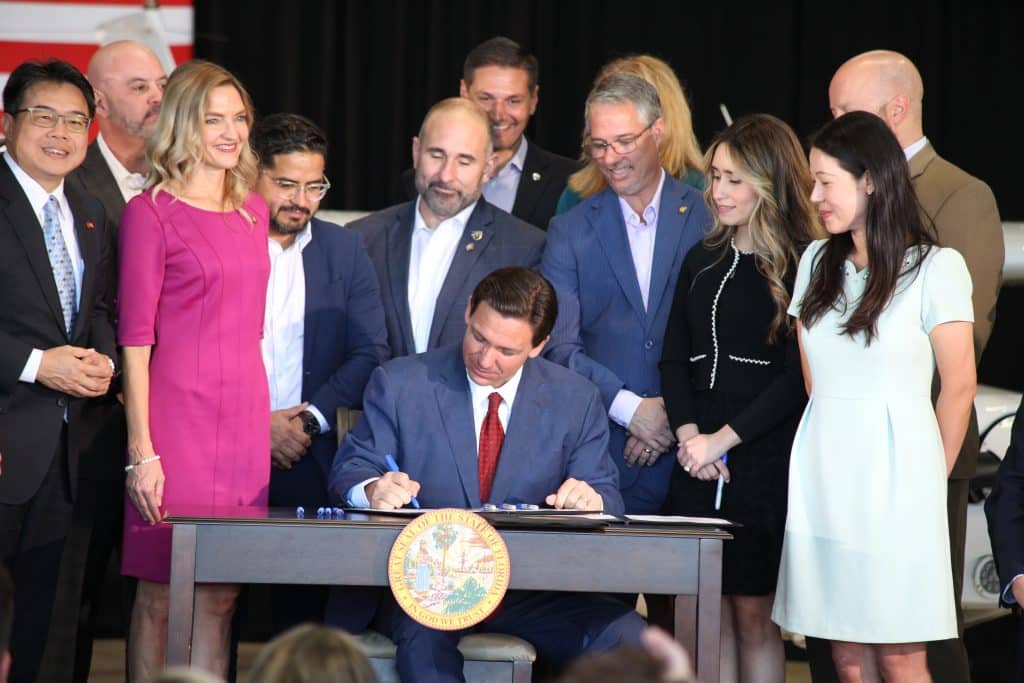 The legislation was partly sparked by the July 2022 purchase of more than 1,400 acres of land worth reportedly $5.5 million by JOINN Laboratories CA Inc., the California subsidiary of a biotech firm headquartered in Beijing, from L & T Cattle and Timber. The firm intended to build a primate breeding and quarantine facility on the property.
Before the plans for the proposed primate facility could be implemented, Levy County would have had to rezone the 1,400-acre parcel to industrial use from its current forestry and rural residential use status.
As of November 15, 2022, Levy County Planning and Zoning Director Stacey Hecktus said that JOINN had not requested nor received permits in connection with the purchase of the parcel.
By February 2023, plans for the facility were abandoned, according to Dr. Lisa Jones-Engel, a People for the Ethical Treatment of Animals (PETA) scientist who specializes in research on primate diseases that can be transmitted from monkeys to human beings.
"A man who identified himself as Bo Wei answered the phone at JOINN," Jones-Engle said.
"He (said that) when the company heard it wasn't going to get a zoning change, it decided not to build on the 1,400 acres."
In addition, DeSantis signed into law SB846 which prohibits Florida state colleges and universities, their employees, and representatives from soliciting or accepting any gift in their official capacities from a college or university based in a foreign country of concern.
It also prohibits state colleges and universities from accepting any grant from or participating in any agreement or partnership with any college or university based in a foreign country of concern.
"The CCP has done a really effective job in identifying the soft underbelly of American society and really focusing on academic infiltration and influence," DeSantis said during the signing event. "They've been attempting to expand their influence in academia tremendously by throwing a lot of money around."
Finally, the Governor signed SB258. That legislation is intended to thwart CCP data mining by blocking access by Florida government agencies and entities, including universities and colleges, to certain Chinese apps, including TikTok.
"We believe that any utility these apps may have is certainly outweighed by any data the CCP gets by data mining and being able to collect information."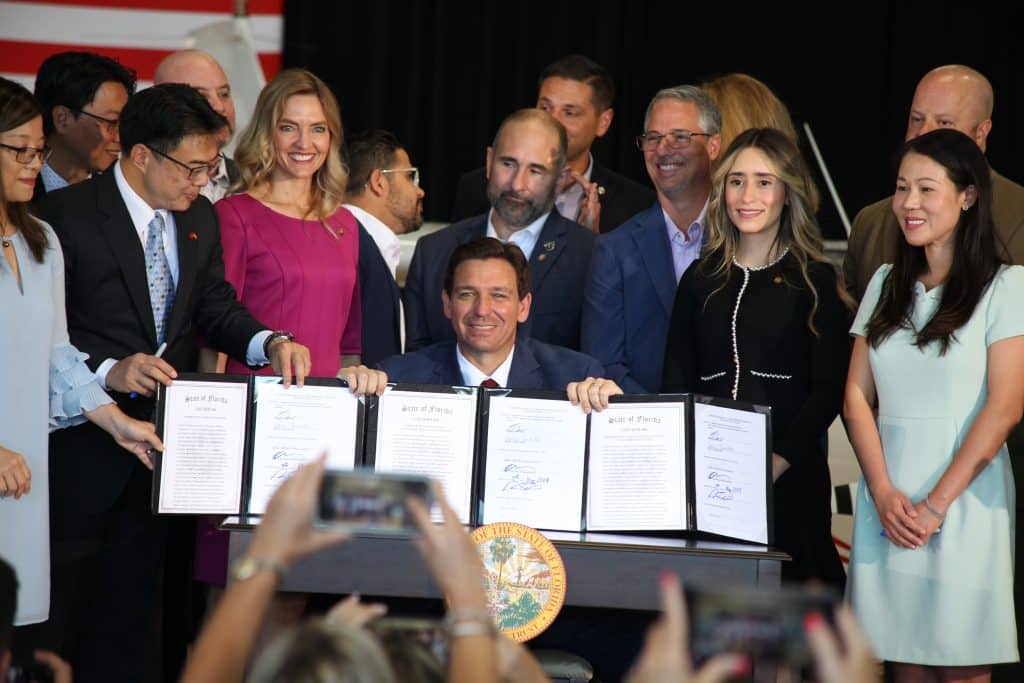 All three measures, SB264, SB846, and SB258, go into effect on July 1.
On Tuesday, DeSantis signed a related bill, HB 379, which prohibits the use of TikTok or any successor platform on devices owned by school districts and via internet access supplied by school districts. Additionally, districts cannot promote any district school, school-sponsored club, extracurricular organization, or athletic team through the platform. HB 379 also takes effect on July 1.