Culture War wages within Hernando County School District
May 9, 2023 School Board Meeting
Teacher's union president and members cite hostile environment, lack of trust in teachers
Hernando County Classroom Teachers Association (local teacher's union) president Lisa Masserio, sporting a "We will not let hate win" t-shirt, took a moment to recognize "Teacher Appreciation Week" by reading a list of things that make the teachers feel appreciated, and also a list of things the district and some members of the public are doing that negatively affect the morale of teachers. Masserio outlined that the association's goal was to work with parents, stating that the effort was hampered by a hostile environment toward teachers, causing some to leave. Masserio said, "I wonder if that's been the end game in this disinformation all along." Masserio added that many attacks on teachers "don't originate from actual parent stakeholders." Masserio said teachers feel appreciated when their voices matter to district leaders. She then said, "The non-example of this is when we deal with negative attitudes toward our teachers and our union from staff administrators or School Board members who feel that attacking or dismissing the concerns of the very people who serve our students directly is somehow appropriate. To appreciate us, that would need to stop."
Teachers caution against input from outside sources
Several teachers and family members of teachers spoke in support of Superintendent John Stratton and his handling of the Fox Chapel Middle School incident. One long-time teacher told the board that when opinions were shared, it should consider the source.
"Was it someone who has kids in our public school system," the speaker asked. "Are they teachers or administrators who are currently in the schools or who have put in their 30-plus years and retired?"
The speaker pointed out that people should trust professionals and give merit when merit is due. Another said that teachers need to be trusted as the professionals they truly are.
Leave affirming teachers alone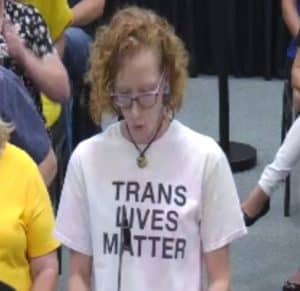 Wearing a T-shirt that read "Trans Lives Matter," Sarah Smith addressed the board as the parent of a gender non-conforming student and the Florida Rainbow Alliance vice president.
She said that LGBTQ students are 40 percent less likely to commit suicide if they have one affirming adult in their lives. She then addressed the parental rights group "Moms for Liberty" and said they were kidding themselves if they thought none of their children identified as LGBTQ, adding,
"They're just afraid to tell you," she said, "Leave our affirming teachers alone. They could be the one person keeping your child alive and giving them hope."
Pastor speaks of hatred toward Christians
Pastor Jack Martin spoke of hearing anti-Christian rhetoric in recent school board meetings, which he termed "vitriol hatred that we as Christians are somehow evil and bad people."
Martin said, "When I hear people talk like that, it's as if they don't even try to understand who we are. But when Shannon makes a statement that says she feels like God put her in that position…to attack her on that is absolutely wrong."
He then took Superintendent Stratton to task over his mishandling of the Fox Chapel incident.
After citing recent shootings by transgender people, he said,
"There is a mental health issue. We should be trying to get them help and stand with them that way," he said, "Parents have a right to be concerned with what their children are taught, and Christian parents are not deprived of that right."
He countered the argument that those identifying as Christian hate teachers.
"I love our teachers; it's not against them. We have a right to speak out when an issue is different than what we believe, and when that right is taken away from us, they are doing to us exactly what they accuse us of," he said. "If we don't change the attitude, we are going to destroy our school district."
Concerns about teacher mental health
A Hernando County mother addressed the Board, saying she was frightened after the last School Board meeting, pointing out that several teachers who spoke at that meeting said they also had mental health issues (while speaking in defense of Ashlee Renczkowski).
She said the teacher in question should have been immediately fired, and those teachers admitting they had a mental health disorder should be evaluated and obtain medical clearance before returning to work. "People have every right to change their genders, just don't bring it into the school and push it on our innocent children. Teachers are supposed to be mentors, someone children can look up to and trust," said that parent. "When adults are not even sure what sex they are, it's pretty clear they should not be teaching impressionable children. Schools should be teaching academics, not sexuality or cultism.
"And the teachers that came up here tonight saying we are attacking them, we just want you to stop trying to groom the children. If you did that, we would appreciate you. We want to appreciate you."