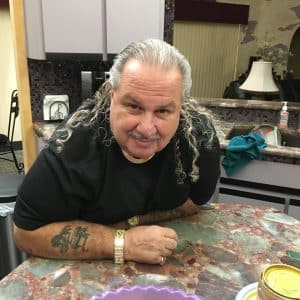 Jennifer Cavaliere of Brooksville and her family honored their late father, Tommy Mara, early this year on behalf of the entire Hernando County community.
Spring Hill resident Tommy Mara (Marasciullo), who passed away in 2021, was the lead singer of a popular doo-wop group known as The Crests and was a featured performer at Ruth Eckerd Hall. He also was known for his great love for his family and his longtime patronage and support of the Springstead High School theater. On May 20, Tommy's beloved Springstead High School Theater was renamed the 'Tommy Mara Center for the Arts at Springstead High School' in his honor. "Tommy dedicated much of his time and resources bringing this hometown theater back to life!" read an event notice.
Cavaliere, executive director of Forest Oaks of Spring Hill and the Executive Producer and owner of Nader-Mara Entertainment, the country's longest-running nostalgia concert production company, was instrumental in securing this honor for her father and feels it was very well-deserved.
"I'd like people to know that he was an incredible philanthropist who gave to many organizations and personal donations without wanting recognition," she explained. "When we owned the Palace Grand and Show Palace, he would pack up that night's leftovers, as well as cases of water, and bring them to the homeless camps around the county. He sponsored so many families as an anonymous angel who fed them for holiday meals and made sure that every item on their child's wish list was fulfilled. He was an amazing human."
And above all, said Cavaliere, Tommy Mara was a family man. "He and my mother had a beautiful marriage that taught so much to my brother (Fabian Marasciullo, 5-time Grammy award winner with four diamond-rated albums, and a 1997 Springstead alumnus) and I," she said. "He was an incredible, supportive father who pushed us to pursue our dreams and make a beautiful life for ourselves. He was the best grandfather, loving his grandchildren fiercely and supporting their dreams. He had a tough upbringing but became a self-made man by working very hard for his family (at times, three jobs) and never giving up. He had the most amazing work ethic. He owned a very successful house painting business for over 25 years, several restaurants and nightclubs, a catering hall, and a dinner theater. My father taught us the value of always being the hardest worker in the room."
And when Tommy Mara took the stage, audiences raved. "He took the stage at REH 19 times," said Cavaliere. "He was so proud of that achievement. The staff there has become extended family to us. In regards to his music career, I think that I can speak for all of the amazing artists that he worked with throughout the years that he was very humble and thankful for every opportunity afforded to him. He was happy to do many charity shows for free, just so the charity would benefit more. It was never about the money to him. It was about making people happy."
And Mara also made his dramatic presence known at the Springstead High School Theater. "My brother, son, and I are graduates of Springstead (96, 97, 22). He watched the theater grow and progress over the years. When we owned the dinner theater, he was happy to help the school's productions anytime he could by donating supplies, props, costume support, and sometimes technical support," said Cavaliere. "He performed there several times and produced shows there that would financially benefit the theater. He took on a lot of projects at the theater that there was no funding for because he knew how important the arts are to students. He believed that it gave them a creative outlet, and he was proud to be a part of that."
Furthermore, the Hernando County School District takes great pride in the accomplishments and contributions of Tommy Mara. "I was approached by several teachers and members of the school board about naming the theater after he passed in 2021. They wanted to do something to acknowledge their appreciation for all that he did for the theater," said Cavaliere. "It was a very simple process of getting the blessing of the principal and then agreeing on the name. Signs By Connie made the sign and installed it for us."
The theater was rededicated May 20 at a well-attended–and even star-studded–ceremony."We didn't take a count of guests at the dedication, but I would venture to guess around 100," said Cavaliere. "Marvelous Marvin of Hits 106 was our DJ and emcee for the event. Marvin and my father were dear friends. There was a beautiful speech given by another very close friend, Joey Dee (Joey Dee and the Starliters – 'Peppermint Twist')."
At this evening of food and fun, music and friendship, Tommy Mara earned a permanent place centerstage–and at what might be considered his home theater.