A Brooksville man is facing multiple charges after being arrested for stealing a shed and selling a pair of major appliances from a home he rented on Boondocks Drive.
Hernando County Sheriff's Office (HCSO) Public Relations Manager Denise Moloney said that HCSO began its investigation into the case in July when deputies met with Steven and Jenna Jones, both tenants of the Boondocks Drive property, who told them that a large shed had been taken from the property.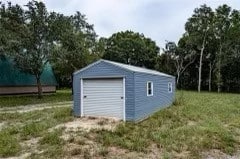 According to Moloney, Steven Jones told the deputies that around sunset on July 12, a pair of men arrived and said that the property's owner asked them to remove a large shed from the premises and left.
On Aug. 2, a deputy on patrol in the area of Old California Street spotted from the street a shed that met the description of the stolen one. The owner of the property on Old California Street allowed them to enter the property and take photos of the structure.
After the owner identified the shed from the photos, the deputies impounded and removed the structure.
Later, Jenna Jones told investigators that a washer and dryer had also been removed from their rented property on Boondocks Drive and subsequently sold.
Both Jenna and Steven Jones claimed that they knew nothing about the theft of the shed, but when detectives compared the signatures on Steven Jones' driver's license and the bill of sale for the shed, they found that they were the same.
Steven Jones then allegedly confessed to the theft and sale of the shed and forging his wife's signature on the bill of sale.
Detectives arrested 27-year-old Steven Jones and charged him with two counts of grand theft and two counts of dealing in stolen property.
All three of the items were recovered and returned to the property owner.