Nature can be an outlet for many people; to some, it could be trail biking; to others, it could be just looking out the window. And with each outlet, there is a purpose, a meaning, a connection, and an understanding of what nature can provide to benefit many people. Being in nature allows people to promote their well-being by quieting their minds or even building their strength. It's a beautiful collective environment in the center of everything.
For Leslie Neumann, that transitional change came from looking out onto coastal estuaries with waterways outlining marsh habitats in a little town called Aripeka. She asked herself why in the world she would move from New York City to a little coastal village with a population of 320.
"I lived in New York for 20 years. I loved New York and had my fill in the sense that I could go to galleries and museums several times a week, and I felt as if I had really immersed myself in that world." Neumann said.
Potentially, there existed a certain absence in her life. Conceivably, she desired a novel beginning that would yield an alternative environment within which she could explore and uncover an untried artistic expression. At this juncture, she encountered James Albert Rosenquist, a prominent American artist and one of the forerunners of the pop art movement. Interestingly, he maintained a residence in both New York and the quaint town of Aripeka, Florida.
"My friendship with Rosenquist led me to visit Aripeka. I got to know his studio assistant, married his studio assistant, and later divorced his studio assistant. I kept coming back to Aripeka but never thought I would live here."
When Leslie became friends with Diane, a resident of Aripeka, they stayed in touch for many years. It was a single sentence that she read that changed her life. "We would write letters to each other, and she wrote something like, "I am sitting out on the porch, and the moon is full, and the mullets are jumping," and I thought that's where I want to be. So it was that moment to let New York go- so I did."
Her artistic vision did transform when she moved to Florida, inspiring her to explore new forms of expression beyond figure painting. This shift allowed her to fully realize her creative potential and produce even more compelling and captivating artwork.
Settling into her new surroundings, Neumann was struck by the stark contrast between the natural environment and the bustling city life she was accustomed to. With a brilliant array of stars and the soft glow of the moon, the night sky was a breathtaking sight. The sounds of nature were a symphony that played effortlessly, without charge or interruption. As she took in the beauty of her new surroundings, Neumann felt a renewed sense of inspiration, knowing that this was the start of a new and exciting creative journey that would foster her artistic pursuits and benefit her health and well-being.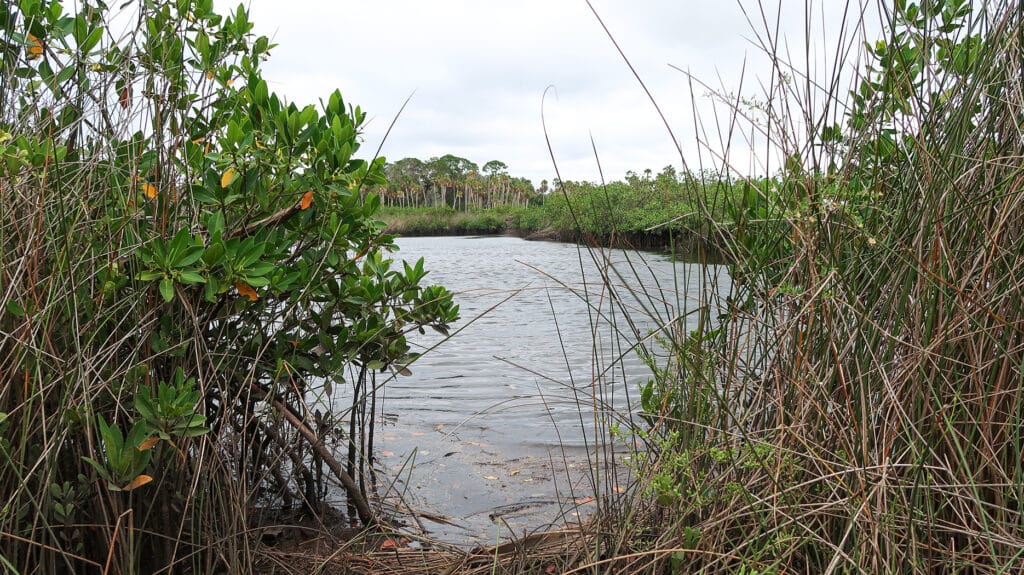 Inspired by the beauty of the coastal ecosystems in her backyard, she skillfully captures the intricate details of the natural world on canvas. Her paintings testify to her deep connection with the environment and the awe-inspiring sights she witnesses.
"I bought a kayak, and you are right there down in the water; you're up close, and so my artwork started to change. All these (paintings) are what you might experience if you were in a kayak," said Neumann. "I like this point of view because, as you know, when you are out in the salt marsh, there's a kind of beauty to it, but kind of a creepy quality to it. When I do these close-up views, you are right in that environment. I make things that are seductively beautiful, but they have a little edge of danger to them."
During our conversation, I asked her about her artwork's intended impact on individuals not well-versed in coastal ecosystems. Specifically, I inquired about the message she hopes to deliver through her artistic expression to those who lack familiarity with such environments.
"I would want them to think that there's some mystery in this environment; there's something wild and a little dangerous and quite beautiful and unfamiliar but captivating," Neumann responded. "I put in my feelings about the environment; people can feel that. And I ask myself, is there that quality in my work where the message is absolutely there because that little circle in the bottom left-hand side relates to the splashes up in the right all, so of it acts in concert with each other to produce this sense of well-being."
The artist's paintings carry a profound sense of purpose and vitality. She skillfully captures the intangible energy of nature, which is often invisible to the naked eye but discernible to those who spend time immersed in it. Her works uniquely evoke a deep connection with the natural world, leaving a lasting impression on those who observe them. "I love that I have the opportunity to present this very integrated body of work, in particular to people who are naturalists."
Join Leslie Neumann for her exhibition at Brooker Creek Preserve Environmental Education Center on Sunday, October 8, from 1 p.m. to 3 p.m. The event will be held at 3940 Keystone Road, Tarpon Springs, FL. RSVP at 34668.
"I do live in this space where I am much more focused on the aspect of beauty and the fun of creating it than I am on the parallels. But the other half of my life is that I do get out of my studio, and I go work for preservation. It makes me feel it's okay to go and paint and love my life because I am doing good in the world." Neumann said.
Join me for part two with the talented artist Leslie Neumann. We will delve into her creative process and explore the sources of inspiration that drive her incredible artwork. Additionally, we will discuss her admirable advocacy for environmental conservation and learn about her initiatives to promote this cause.