On Friday evening, the South Sumter Raiders (7-1) overwhelmed the Hernando Leopards (2-6) by a 63-6 margin at Tom Fisher Stadium. The Raiders came into the gridiron showdown on a three-game winning streak and scored nearly 42 points per game. The home team has been having a rough season, particularly in the department of scoring points, managing just over 10 per contest. The Leopards' coaching staff was aware the team was a difficult matchup for them, but Head Coach John Scargle had hoped for a better performance from his squad.
"We knew South Sumter was good. We knew they were well-coached and they're an assignment football team," said Coach Scargle. "So it wasn't really much of a surprise. We thought our kids would step up and play a little better. We had too many breakdowns on defense, we couldn't move the chains on offense, and that was the death of us right there."
The game went south in a hurry for the home team as they proceeded to go three and out before a false start penalty on the punt set the visitors up near midfield. On their first offensive play, Raiders sophomore QB Landen Sherman heaved the ball up to Ja'kyrian Turner for a 41-yard reception down to Hernando's 14-yard line. Six running plays later, the visitors punched it in on a quarterback sneak on 4th and 1 to give them the early 7-0 lead.
Another Hernando three-and-out gave Sumter the ball with fantastic field position. Starting in Leopards' territory on the 38-yard line, Head Coach Ty Lawrence's squad would score again just six plays later on an RB Bubba Boone run to go up by 14 points. That's when the game started to go sideways for Hernando. On the first play of their next possession, Leopards' QB Michael Saltsman tossed a pick-six to George Mullins to give the visitors another touchdown just 13 seconds after their last. The long-established Raiders staff would continue to layer on the points.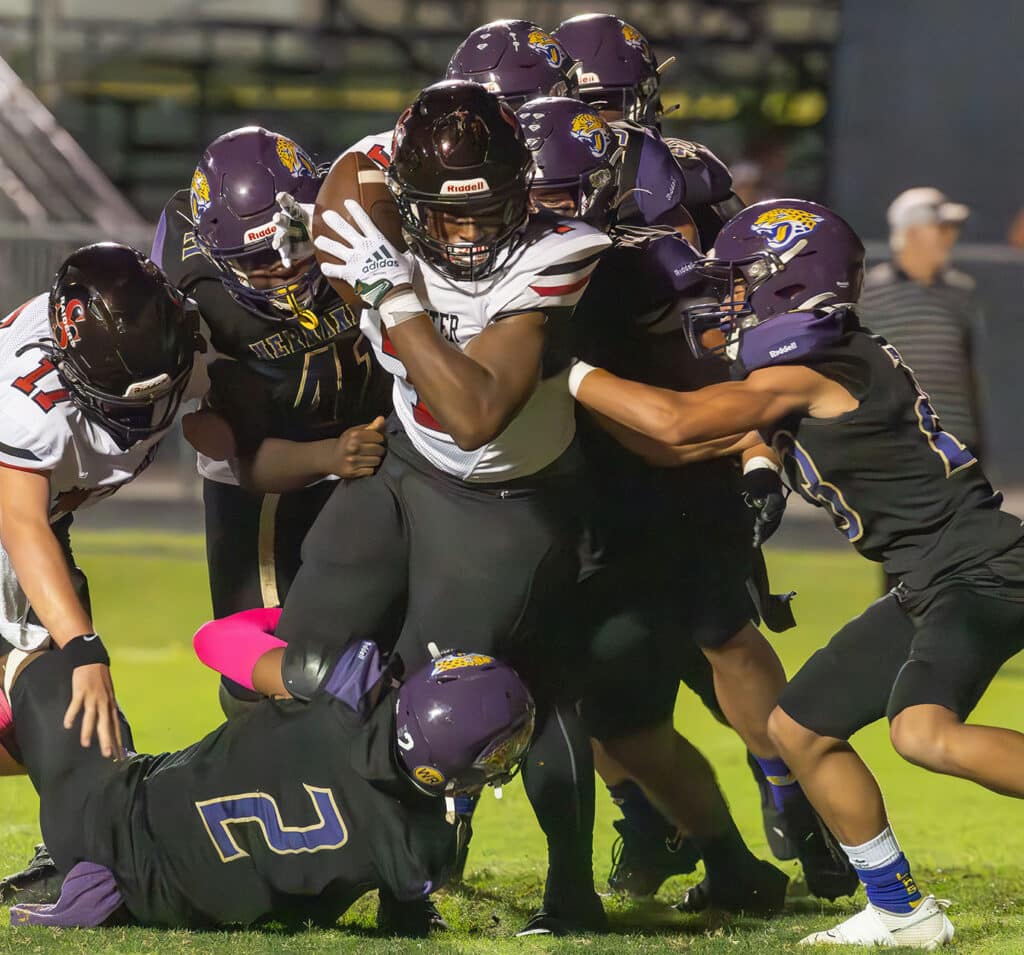 "This coaching staff has been there for almost 20 years; they have a system; they have the right culture," Coach Scargle said. "They've got 100 players in their program, they're teaching fundamental football, and they've got depth, which helps the starters get pushed. So, no one gets complacent."
South Sumter would not be forced to record their first punt until 20 seconds left in the first quarter and the Purple and Gold would not make a first down until the final play of the quarter. That punt would also serve as South Sumter's only punt of the first half, as they put together a variety of quick drives with another pick-six to boot. By halftime, the visiting Raiders had already hung over half a hundred on the home team.
The intermission saw Hernando honor former football and wrestling star Windham Rotunda, who passed earlier this year. Following the break, a running clock was instituted, and Hernando managed to get on the board with a late pick-six of their own. The visitors would tack on one last touchdown on the final play of the game to mercifully bring the matchup to its 63-6 conclusion.
Next week, the Leopards get a much-needed bye week that will allow them to focus on a myriad of concerns, including "fundamental blocking, tackling, assignments." South Sumter faces off against the Vanguard Knights from Ocala in their penultimate game of the season. The Leopards are looking to finish strong, heading into better late-season matchups and the Raiders will look to finish their already impressive season off with a bang.
"Our last two games are more our style, teams that we matchup better than we did against South Sumter," Coach Scargle said. "So, we're looking forward to those two games and to finish the season strong."
Football 2023 Hernando High vs. South Sumter