Coming into their second season since their inception, the Hernando County Hawks are ranked first in their division. As a member of the EAFL (Elite American Football League), which is the largest amateur football league in the country, the Hawks are one of over 60 teams from around the country that have applied to play for the league in 2024. Despite all these teams, many were unable to finish their seasons and were forced to shutter their operations. That is a point of pride for Hawks' General Manager Paul Vermeulen.
Though the Hawks went 3-7 last year, the local team was able to "cross the finish line." Coach Vermeulen commended the offseason adjustments of the league by EAFL Commissioner Mike Torres. According to Vermeulen, the commissioner placed the newer teams that have been around for one to four years in the AA division, while the more veteran teams were designated to AAA.
Last year, the league featured no divisions and thus left the then brand-new Hernando Hawks to fend for themselves against many of the long-established squads last year. Of the 21 teams in the state of Florida that have applied for AA, the Hernando Hawks are ranked first in the preseason rankings by the league and Commissioner Torres. The ranking was awarded due to factors such as recruits brought in over the offseason, though the Hawks' manager does want to guard against complacency.
"Mostly just the offseason recruiting and having the guys buy into what we're trying to do as a team," Coach Vermeulen said. "Some of the teams – free for all fights. Have a lot of guys that reach out to me… They saw kind of the class that we had with being a team of maturity per se because we got a couple guys on the team that left other teams because of the atmosphere."
Vermeulen is excited for the increase in eyes on the league around the country and around the globe. Specifically, Europeans have shown incredible enthusiasm for American football in recent years. According to the coach, players from the states are treated like "superstars" across the pond. The interest is not just from the European public, but from their football recruiters as well.
The EAFL regularly has players plucked from their ranks to play for those clubs. Though, since there are so many EAFL squads and the European teams play during the league's offseason, it rarely affects the amateur league negatively. In fact, it usually helps. Playing internationally not only keeps players' bodies in game shape, but also helps to mature them while they are away.
"[Commissioner Torres] was telling me about a quarterback that was just a knucklehead that he had on his team," Coach Vermeulen said. "He went and played Europe ball for a year, came back as a new guy, wasn't an instigator. Showed up to practice on time, stayed extra, got there early, and the guy ended up as a quarterback – his winning record was like 43-3 with Mike's team… He said it completely changed that young man."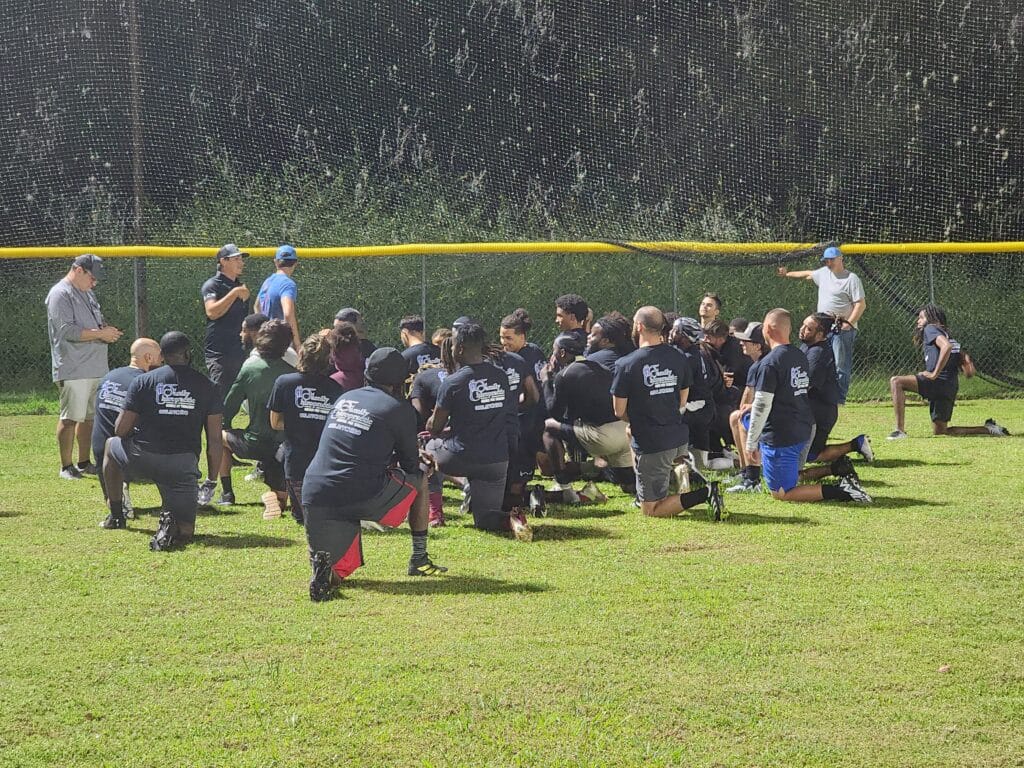 On February 10, 2024, the Hawks will play in a "preseason bowl bash kickoff game" Coach Vermeulen said. They will face off against the number two ranked Central Florida Colts in Orlando. A matchup between two AAA teams will be featured as part of this event as well. The manager is excited for his squad to play in their first bowl game and the Hawks will continue playing their regular season games at Hernando High School for those who wish to attend. While the official schedule for the upcoming season is not yet finalized, the itinerary will be revealed to the teams and public in October.
At the final OTA (organized team activities) of the offseason, the Sun caught up with some players that Vermeulen is excited to see play and asked them what it is about this team that has people believing in them. Defensive Tackle Nissan Taylor, whose day job involves owning a pool business, started out with the Tampa Bay Thunderbolts after high school 20 years ago. After encouragement by a member of the coaching staff, Taylor decided to join the Hawks and has been pleased with what he has seen thus far.
"Coach Frank, D-Line coach, he was like, I should come out here," defensive tackle Nissan Taylor said. "It was a young team; the ownership is great. They do a lot of community stuff, and it's just a really solid foundation for a team. Even though they've been at it one year, they pretty much do things the right way… I've been out here a long time and honestly, [Head Coach and Owner Austin Webster] does it right. I've never in all the years I've played seen this type of turnout for an OTA."
Quarterback Cody Colbath comes from a small town in Oklahoma and played college football at Central Oklahoma in 2013. He has played semi-professional football for "seven or eight years" across multiple squads including the Southern City Soldiers last year.
"Playing semi-pro as long as I have, you get to teams, everything feels really good in the first couple weeks, and it starts to kind of fall apart," Colbath said. "I really feel like what Austin, Paul and the rest of the coaching staff are building is just more of a brotherhood. You have a lot of really young, hungry guys and so when I see something like that as an older leader, it's hard to pass up."
Other players on the squad that Coach Webster is excited to see put the pads on include WR Jordan Reid, RB Christian Phillips, and LB/TE Saint James. There are a plethora of stories to tell of the athletes and how they arrived at the Hawks, but one commonality between many of their accounts was the unity that drew them to the amateur football squad. With their second season months away, Coach Vermeulen is still seeking to grow the number of partners and sponsorships involved with the team. Any businesses looking to reach out can contact the manager at (727) 485-4544 or [email protected].