As The Arc Nature Coast CEO Mark Barry has plans for retirement in 2024
On Tuesday, Oct. 24, The Arc Nature Coast and CEO Mark Barry hosted their Annual Membership meeting. The public and members of The Arc gathered to hear "A State of The Arc: What we've gone through in the past year, where we are today and what direction we're trying to move in." Barry spoke for much of the proceedings, but board members and even some members with disabilities voiced their appreciation for the work the CEO and others have done to make the program a successful one.
Affiliated with the Arc of the United States since 1972, the Nature Coast branch serves the trio of Pasco, Hernando, and Sumter Counties. Though there used to be more chapters across the state, according to Barry, this local branch became one of 35 following the consolidation that occurred within the organization. So, what exactly is the Arc's mission?
"We serve individuals with intellectual and developmental disabilities: Down syndrome, any kind of condition where their IQ is 69 or below, cerebral palsy, autism," Barry said. "So, that's who we serve. Our mission is to help them be a part of the community."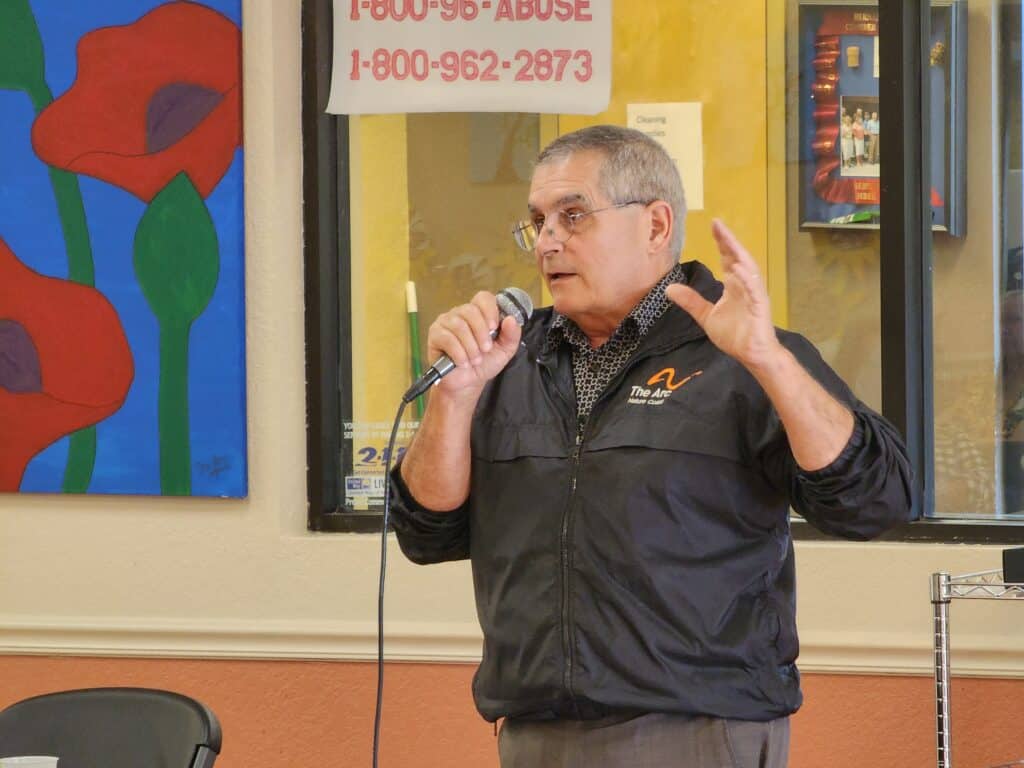 The Arc works primarily with adults over the age of 22 but will also help those as young as 18 after receiving referrals from local high schools. According to The Arc CEO, these collectives came about as "an alternative to institutional care," as institutions were the primary method for folks with such disabilities to receive help. Before The Arc, Florida had six such institutions, with two thousand people living at each one until 1973, when "de-institutionalization" began to occur.
They now have five centers across the tri-county area, providing services that include shuttling their members around, helping them volunteer in the community and earn jobs, teaching them functional skills, coordinating social activities, and providing residential care. As part of the residential service, The Arc has eight homes with a staff that is ready around the clock to assist their members. As individual needs range from "minimal support" to total care, the organization provides a tailored, passionate approach that allows its members to live their fullest lives regardless of disabilities.
"One of the most important things that we can do is give a family some security and confidence that their loved ones are taken care of and will be treated with some dignity, respect and have a meaningful life…" The Arc CEO said. "I realized that when we institutionalized people, we segregated and isolated a population from our community, and I think our community suffered because when we can help this population be more integrated, the impact it has on the community is positive."
Barry likened The Arc to a hibernating bear and noted that "this past year, it was like the bear woke up." Whereas the focus in the two years post-COVID was simply on survival, the plan pivoted to one of accountability over the past year. This shift brought new regulations, new demands, and new expectations that were placed on them by the state and federal governments. After a brief introduction and an overview of what the program is, Barry broke down The Arc's strategic initiatives for the next five years up to 2027. This plan was separated into eight bullet points:
1, Develop a permanent new home for services in Sumter County that is sufficient to accommodate growth.
2. Develop residential and employment services in Sumter County.
3. Establish permanent internal nursing supports for their group homes and Life Skill Centers.
4. Establish permanent internal behavioral supports for their group homes and Life Skill Centers.
5. Improve and increase internal training for their Direct Service Professionals and leadership staff.
6. Expand and deepen their community engagement in all three counties served in support of their mission.
7. Increase private charitable support through annual giving, major gifts, and planned giving.
8. Achieve a smooth and seamless succession of the current CEO to a new CEO that ensures stability and continued growth and improvement into the future.
On the final point of succession, the discussion was particularly pertinent to the CEO because he is looking to retire in 2024. After 40-plus years in the industry and 31 years as The Arc Nature Coast's CEO, Barry is excited to become a full-time grandfather. After the care leader announced his imminent retirement on Tuesday, various members stood up to voice their appreciation for the passion he has displayed for over three decades.
"I just want to say I'm glad I'm on the board," said Wendy Beard, board member, educator, and wife of PHSC President Timothy Beard. "I'm very glad that you're in the position you're in. I haven't been here long, but I can just tell we're going to miss you already, but I just appreciate how you all welcomed me – the board members – and I'm very grateful."
Looking ahead to the future, Barry hopes the board will tab Chief Operating Officer Kelly Long as the new CEO of the organization upon his stepping down. The Arc leadership is also planning to erect a new building at their Neff Lake campus as part of their expansion strategy. According to Barry, groundbreaking should occur on this establishment within the next 30 days and be completed in roughly a year's time.