Every day, our brave men and women in uniform serve this nation to preserve the freedoms we hold dear. With Veteran's Day on the horizon, it is as important as ever that we honor the heroes who gave their last full measure of devotion to defend it. As many post offices around Hernando have memorials to local fallen soldiers, what better place to start than a tribute to those who came from this county?
Not all post offices in the county currently have dedications to fallen soldiers, though, as some are still working on having their dedications posted. Brooksville's downtown post office is one such location that is planning on having their memorial up within the next few months, though there is no specific timeline on when their dedication might be completed.
In this issue, the Sun is proud to honor the memories of Staff Sergeant Michael Wayne Schafer, SPC Cody Clark Grater, and Sergeant Lea Robert Mills.
Dedicated by the Spring Hill Post Office, Staff Sergeant Michael Wayne Schafer was a member of the Chosen Company, 2nd Battalion, 503rd Regiment, 173rd Airborne Brigade in Vicenza, Italy, at the time of his passing. Born on August 16, 1979, and killed in action on July 25, 2005, Schafer was 25 years old. According to the "Fallen Heroes Project" website, the late staff sergeant played Little League in his early years and was awarded the Iron Man trophy in eighth grade when playing for former Springstead Football Head Coach and current assistant coach Bill Vonada.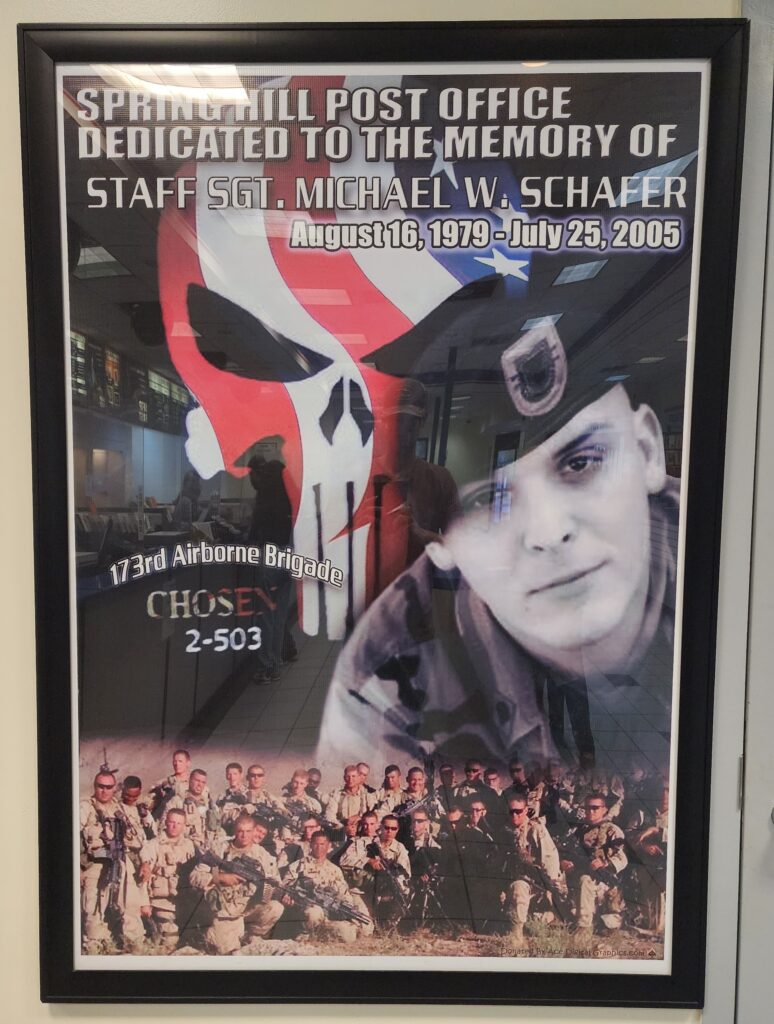 After graduating from Springstead in 1998, he enlisted in the army in January of the following year and was set to get out in January of 2007. After serving, Schafer "talked about being a paramedic, a police officer, a firefighter – maybe even a Secret Service agent," the website stated. During his time in the army, Schafer was one of the first paratroopers to jump into Kirkuk, Iraq in March 2003 and was awarded the Bronze Star for his nine-month stint there. He tragically lost his life on Monday morning July 25, 2005, when he was shot twice while on patrol in a town named Oruzgan. Schafer was the first soldier from Hernando County to be killed in current combat in Afghanistan or Iraq.
The Brooksville Main Post Office erected its dedication in memory of US Paratrooper Specialist Cody Clark Grater, who was a member of the 407th Brigade, 2nd Brigade Combat Team, and 82nd Airborne Division in the United States Army. Grater was born on March 2, 1987, and was killed in action on July 29, 2007. According to the "Find A Grave" website, he died after sustaining direct fire while serving in Baghdad, Iraq. His mother, Anita Lewis, told Hernando Sun he was killed by a rocket-propelled grenade.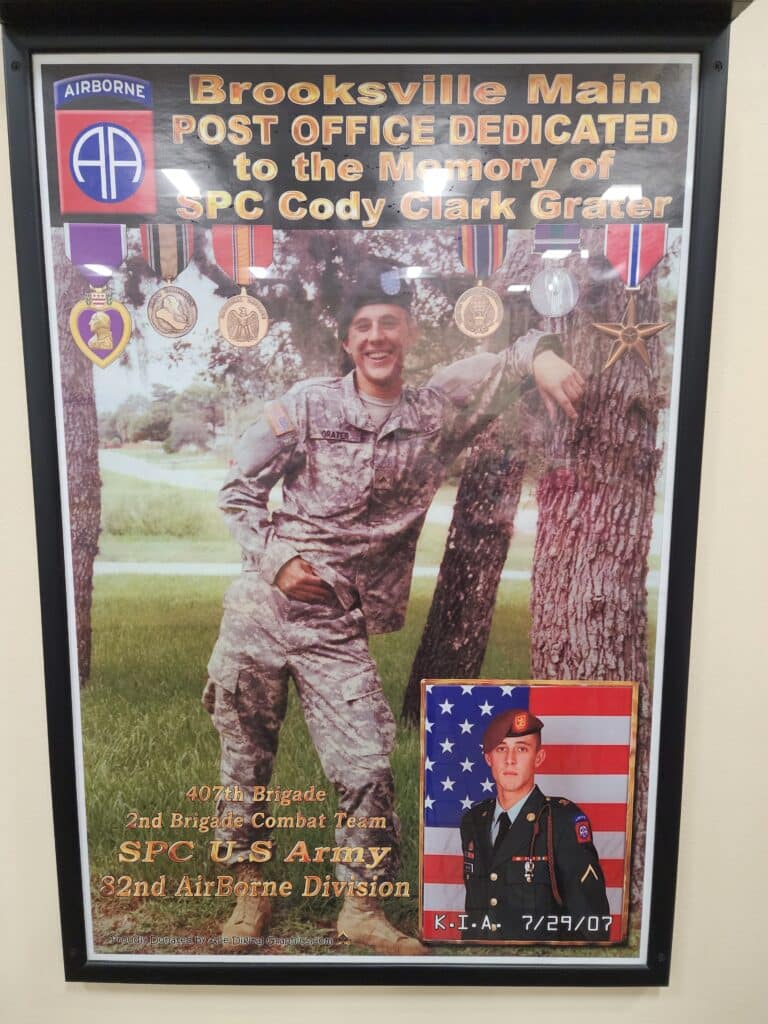 "My son Cody went to the army to help our country. He went to Ft. Bragg and was in the 82nd Airborne. He was a great son and I miss him dearly every day," Lewis said.
His role with the army seemed to fit Grater well, as "he had a love and skill for all things mechanical and was often working on his Honda Civic, taking it apart and putting it back together," the Find A Grave website stated.
He was raised in Spring Hill and attended Springstead in 2002 and 2003. The fallen hero joined the army in April of 2006 and was awarded the Bronze Star and Purple Heart for his service. Similar to Sergeant Schafer, Grater wanted to continue to serve his country throughout his life, though not necessarily as a first responder or police officer. The specialist planned to make the army his career.
Spring Hill's Aviation Post Office dedicated its own memorial to Sergeant Lea Robert Mills, who served with the 3rd Amphibious Assault Battalion, 1st Platoon, 1st Marine Division, Charlie Company. He was born on July 1, 1984, in Brooksville, Florida, and was killed in action on April 28, 2006. According to the website "Task Force Trinity," Mills became a member of the United States Marine Corps on September 11, 2002, at MCRD Parris Island and continued his MOS (military occupational specialties) training at Camp Pendleton, California.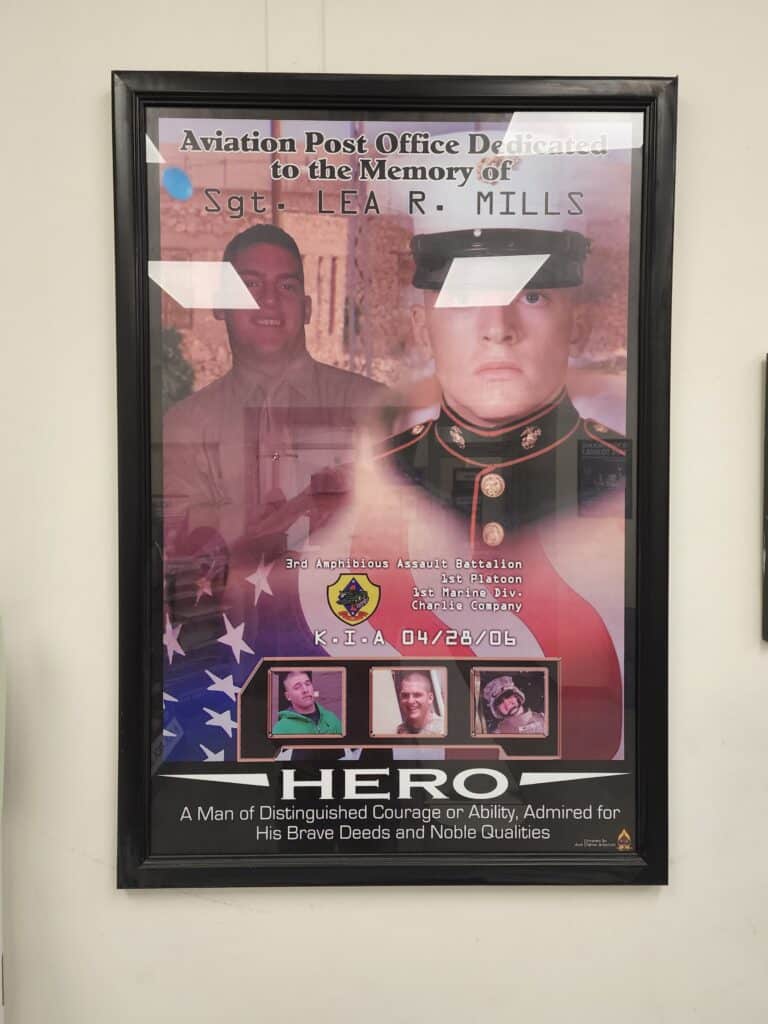 The late sergeant was "deployed to Operation Iraqi Freedom in support of America's Battalion- 3D Battalion, 3D Marines where he was killed in action." Throughout his career, Mills was awarded a litany of medals, including the Purple Heart, the National Defense Medal, and the Combat Action Ribbon.
The Sun will continue to tell the stories of more heroes from around the county in the coming months.