Springstead hosted a two-night soccer event for the girls' soccer teams from Weeki Wachee High School, Anclote High School, and Sumner High School.
For the Weeki Wachee and Springstead coaches, they are getting prepared for the start of the season. "To prepare for the start of the season, we've been working on cohesion; many of my players have varying experience levels, come from different clubs teams, and have different skill sets.  The girls have to learn to play together and learn the style of play that works best for us as a team," said Sarah Bell, head coach for Springstead Girls Varsity Team.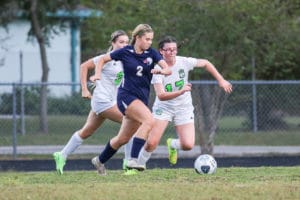 "It's a new season, and the girls have had a revolving door of coaches, so in the short time we have had together, I'm trying to establish new standards and expectations for the returning players and new members of the team," said Tom Pellito, head soccer coach for the Weeki Wachee girls' varsity team.
Preseason sporting events are incredibly beneficial to the players' skills and how those individual skills contribute to the team. "Competing in the preseason was a great way to have the girls start building the cohesive unity we need to be," said Bell. "We had some players in new positions this year in the preseason, so the team is adjusting and building chemistry. The preseason allowed me as a coach to experiment a little in game-like situations."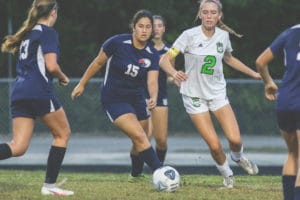 "I'm glad we had an opportunity to see how we play together on the full-sized pitch. In practice, when you know everyone, you can get comfortable. In the game, the girls saw how the intensity and aggression must increase and how vital it is to communicate and play to each others' strengths. We saw the duality of winning and losing and handled both with grace. Being able to psychologically keep our composure in victory and defeat will be beneficial for the players on and off the field," Pellito said. 
The girls' soccer season is well on its way, and not only is one game something to look forward to, but every game is something the girls can learn from. "I'm really looking forward to the girls playing at their optimal level," said Bell. "I've scheduled the number of challenging opponents to really push the girls this season, and I'm looking forward to just seeing the girls grow. I believe this is one of the most talented teams Springstead girls soccer has had, and last season we were very successful (16-4) with a young team. I also have several seniors this year that I have had the pleasure to coach the last four years; they've come a long way from their freshman year when they were 3-14-3.  Overall, I'm hoping to build on our success from last year, bring out the best in each player and be competitive at the highest level."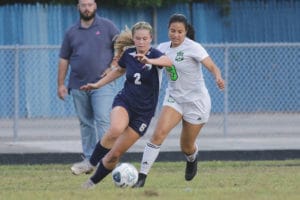 "As a coach, I witness the progression of improvement in their gameplay throughout the season, and it is always a night and day difference. We have a tight-knit group of good girls who are all on the same page in terms of wanting to get better and win. What I want all of the girls to learn from this experience is how to handle adversity, work together with others, and to continue to strive for improvement," Pellito said.  Weeki Wachee travels to Hernando High on November 15, and Springstead hosts Land O' Lakes on their home field on November 16.