Most locals know of Chinsegut Hill, the nineteenth century estate located on the outskirts of Brooksville. However, many are not aware of several luminaries that occupied the home for almost five decades and the large number of famous people that visited there in the first half of the twentieth century. The stories of these people and their connection to Hernando County would make a fascinating movie if anyone ever decided to film it. 
After the mansion stood vacant for many years, following a tornado that almost ripped it from its foundation, Elizabeth Robins purchased the house in 1904 for her brother, Raymond, and her to live in. The selling price – $5,000 for the house and the land.
As children, the two were sent to live with different relatives and were separated much of the time because their father was absent on business a lot and their mother became mentally ill. However, Elizabeth and Raymond had a strong emotional bond. Coming from a dysfunctional family, the siblings triumphed over their circumstances and became successful in several fields.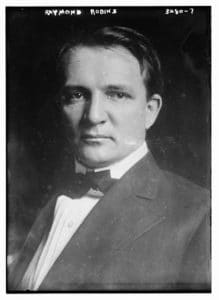 Born in 1862, Elizabeth caught the acting bug and joined Edwin Booth's theatre group in New York City. Yes, that Booth, brother to the infamous John Wilkes Booth. She toured the country and in 1883 moved to London to continue her career. None other than Oscar Wilde praised her acting, saying, "You have definitely asserted your position as an actress of the first order. Your future on our stage is assured."
During her lifetime, Elizabeth wrote plays and non-fiction works. She also wrote novels under the name C. E. Raimond. She joined the National Union of Women's Suffrage Societies and Women's Social and Political Union and even campaigned in England for the movement to allow women to enter the House of Lords. 
Raymond was born in 1873 and as a child, he lived with his uncle in Brooksville for a period of time. While living here, he developed a close friendship with Fielder Harris, a former slave. He became a mentor to Raymond, teaching him how to fish, hunt, and the values of caring for nature. 
In 1896 Raymond graduated from Columbian University, which later became George Washington University, with a law degree. He was highly intelligent and finished his studies in one year. He opened up a law practice in San Francisco, but "gold fever" hit him the following year and he joined the Klondike Gold Rush in Alaska.
He didn't do very well mining for gold, but he found a new career. He became a preacher and social worker to the miners. Eventually, Robins settled in Nome for a while and was pastor for a Congregational church there. He ministered to the sick, nursing people back to health and curing them of yellow fever.  Robins was well-known and respected among the miners.
Meanwhile, his sister was living in England and hadn't heard from her brother in more than two years. Out of concern for Raymond's welfare, she traveled by herself to Alaska to find him. It entailed a long journey by ship across the Atlantic, across the United States by rail and then another trip by steamer up the Pacific Coast. Elizabeth convinced him to come home. In later years she would write about her journey in two books – "Magnetic North" in 1904, and "Come and Find Me" in 1908. 
Upon their return, they purchased the property in Brooksville. Raymond named it Chinsegut Hill after an Inuit word meaning, "the spirit of things lost and regained." Raymond's personal definition was "the place where things of value that were lost are found." The house required a lot of renovations and repairs to make it habitable.  
In 1905 Robins married Margaret Dreier, an independently wealthy labor activist who was president of the Women's Trade Union League. All three of them were active in the women's suffrage movement. Raymond joined the Progressive Party, even running for U.S. Senator from the state of Illinois in 1914.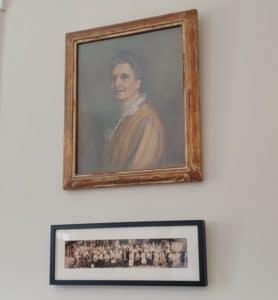 Eventually, Elizabeth would return to London to resume her acting career and lived there most of the time. Raymond and Margaret used Chinsegut Hill as a vacation residence and spent much of their time on socially progressive causes. While they were away, Fielder Harris acted as caretaker for the property. 
Throughout the early 1900s to the 1940s, Robins was a diplomat and advisor to seven presidents – from Theodore Roosevelt to Franklin D. Roosevelt. He traveled to France, Russia and other countries on diplomatic missions. 
When Margaret and Raymond were at Chinsegut they played host to a "who's who" of prominent Americans. Among their guests were Thomas Edison, Helen Keller, William Jennings Bryan and Marjorie Kinnan Rawlings.  
Eventually, Raymond deeded the entire estate to the federal government with the stipulation that he and Margaret be allowed to live there until their deaths. Margaret died in 1945 and Raymond's beloved sister, Elizabeth, passed away in England in 1952. Raymond lived another two years. 
There is much much more to their story and Brian Buttafuoco, Curator of Education for the Tampa Bay History Center, is a "walking encyclopedia" of the entire history of Chinsegut. On a recent tour of the house, Buttafuoco regaled members of the history center's education committee with stories of the estate from the building of the original house to the present day. 
The grounds of Chinsegut Hill are open seven days a week. You can walk around the property to take in spectacular views of the surrounding area and read the signage explaining a little about the history of Chinsegut. The house is open for tours Saturday and Sunday 10 am to 5 pm. For more information go to www.tampabayhistorycenter.org.