For five years in a row, Glen Lakes Veterans and Friends Association (GLVF) has held a golf outing on Veterans' Day to raise money for military organizations in Hernando and Citrus counties. Despite forecasts of a slight chance of rain, November 11th, dawned sunny and warm, with low humidity, was perfect "chamber of commerce" weather. 
More than 220 golfers all together participated on the two day outing held November 10th and November 11th. Counting the golfers' entrance fees and the sponsors' contributions, the Glen Lakes Veterans and Friends Association met its goal of $50,000 to top the $250,000 mark for its five-year history. These contributions were in the form of Hole Sponsorships, cash contributions, as well as gift certificates and items for the Silent Auction. Golfers were treated to a complimentary breakfast and lunch.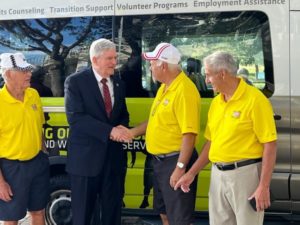 The Thursday event kicked off with an appearance and brief comments by Florida State Representative Daniel Webster and a presentation of a plaque to the owners of Glen Lakes Golf and Country Club in recognition of their support. Each year since this event started in 2017, they have donated the use of the golf course and the clubhouse to the association for its tournaments. Students from Notre Dame Catholic School entertained the crowd with patriotic songs and there was even a bagpipe player performing.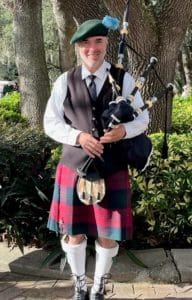 Congressman Webster stated, "This is a picture of what needs to be done, especially on Veterans' Day. We owe veterans a debt we cannot repay. Events like this aid in starting to repay this debt. They (Glen Lakes Veterans and Friends) dreamed it up and did it on their own."
The children from Notre Dame were excited and proud to be asked to perform.  The school not only supports events like this, but also participates in the Field of Honor Ceremony. Parents of the students purchase flags to represent family members who are in the military. These flags are then placed on the school grounds. There is also an essay contest in which the students write about what the American flag means to them, about a family member who's a veteran or why America is a great country.  
Second grader, Samuel Cabrera stated, "I feel good about coming out here to sing."
Fourth grader, Connor Knox, whose grandfather was a veteran, echoed the same sentiment when he commented, "I love coming out here today." 
Mia Schonborn, also in fourth grade remarked, "I feel real happy to be asked to come out here to sing. Veterans' Day means you celebrate the people who fought in wars and who died because of wars – all the people in the military." 
James Freeman, the bagpipe player who entertained the crowd, has been playing the instrument since 1996. Of both Scottish and Irish descent, he wore the traditional kilt made from the tartan of the Lindsay clan, his mother's family.  
Besides supporting a worthy cause, the golfers enjoyed a day of fun. Mark Downing, owner and funeral director of Downing Funeral Home and Cremation not only participated in the golf outing, but was also a Hole Sponsor. 
"It was fantastic to get together for a great cause and pause for just a few hours and spend time with veterans and friends. It's what this country and communities need to be doing. I hope we never forget the veterans and those serving this great country," stated Downing. 
Ron Ford, one of the organizers of the golf outing commented, "We were  honored to have Congressman Webster attend the opening event and observe the passing of the keys of the DAV van purchased by Glen Lakes Veterans and  Friends to the VA Hospital Volunteer Fleet."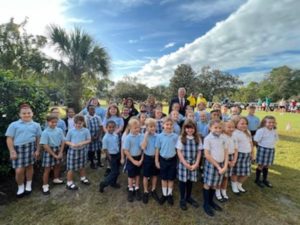 This van will be used to transport veterans to the VA hospital in Tampa. In past years GLVF has helped to pay for the hiring of service officers for several veterans organizations in Hernando and Citrus Counties. These service officers work with veterans to help them cut through the red tape and receive their justly-deserved benefits. GLVF has also donated money to veterans' organizations to purchase computers, replace air conditioning systems and take care of other expenses. 
Co-Chairs of the event, Dennis Blum and George Friel expressed their gratitude to the many sponsors that could attend the event and the overwhelming generosity of Hernando and Citrus county businesses. "So many volunteers made this event happen, so many golfers donated, and the new owners of Glen Lakes continued the community tradition of giving to a cause that shows appreciation for veterans. All gave some; some gave all!" Ford concluded. 
Now that Glen Lakes Veterans and Friends Association has established itself as a viable organization with a track record of donating more than $250,000 to help veterans, their goal is to become a blueprint for other communities to replicate their system of fund-raising. If every town in every county in Florida had an organization like this, there is no telling what the results for veterans would be.