CJ Hamilton, Chief Administrative Officer of the newly minted Bravera Health Spring Hill (formerly Bayfront), spoke to the crowd of employees, board members and local elected officials and other dignitaries on the morning of November 30, 2021.  Bravera Health Brooksville and Spring Hill Interim Chief Executive Officer Tony Degina shared similar information in an event held at noon the same day.
The name change affects three area hospitals: Bayfront Spring Hill and Brooksville, Seven Rivers, along with Bayfront Health Medical Group. Combined, the network of three hospitals contain 372 beds and nearly 700 physicians, and combined medical staff.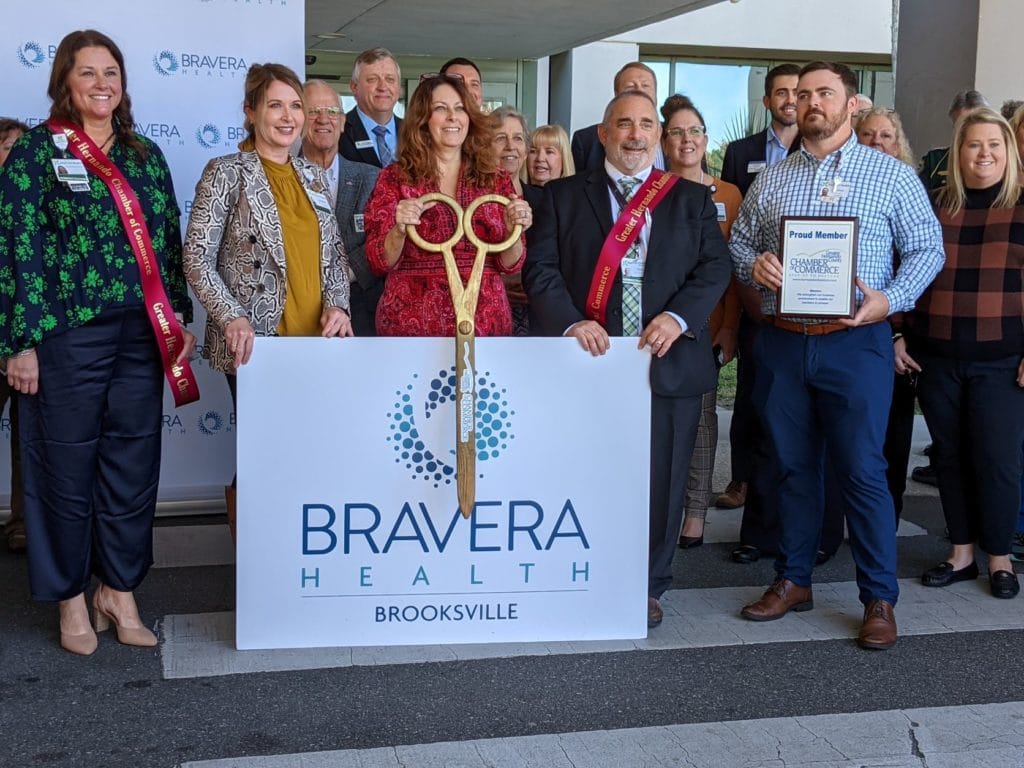 Hamilton and Degina described the concept for the logo and name which will soon adorn the buildings of the three hospitals and series of medical offices.  "Both the name and logo were carefully considered over a unique time in healthcare.  As we can all agree over the past 18 months, we've learned many things about one another and this community. We've learned that in the face of diversity, we are strong. Our hospital staff members, our communities, and our patients have courage, and are resilient. Our new name embodies that spirit by combining the words brave, and of vera, the root word for truth."
Before passing the microphone to Board of Trustees Chair Janine Kell, Hamilton announced that Bravera Medical Group is planning to add a new primary care location near the Spring Hill hospital.  The new medical building is expected to be built on Quality Drive, directly across the street from the hospital, or on County Line Road.  
On December 1, 2021, a nurse-midwife rejoined the obstetrics and gynecology department, and in 2022 Bravera Health Spring Hill is expected to step up its recruitment efforts to bring new surgeons, primary care physicians and mid-level providers into the county.
During her address, Kell said,  "We believe it's a name that is representative of our employees and the community we serve. If anything, these past years have surely shown that.  Our commitment to improving the health of our community remains steadfast, and this only reaffirms our promise to Hernando County. It's been an honor to be part of this and we look forward to continuing to provide quality health care… When I think of all the medical staff and employees during this pandemic, you know, Brave certainly comes to mind."
Degina announced that at Bravera Health Brooksville's location, recruitment efforts have started for new primary care physicians as well as specialists.  Brooksville is also looking for general surgeons.  Special guests in the audience included representatives of Jersey college.  Jersey College is a nursing school that will be installed on the Bravera Brooksville campus in 2022.  Brooksville will be growing their own nurses.