I'm headed back to the Everglades again very soon to try to put a few pythons in the truck. Who wants to go? Those giant constrictors are putting a damper on our native wildlife, and I encourage all of you to help put a stop to their pillaging of our native ecosystem. Small game and birds have been decimated throughout the southern end of Florida's peninsula, but many whitetails, too, are winding up in the bellies of these alpha predators.
As the Burmese pythons continue to age, their sizes are really increasing, and that means the size of their prey is also increasing. Alligators, wild hogs and deer have notably been on their menus, and that leads many to ask the question: Is it only a matter of time before people begin to disappear?
The most recent U.S. geological surveys have estimated that there are approximately 320,000+ of the big serpents throughout South Florida, and there appears to be little that can be done to stop their spread. Recent captures in Coral Gables, Myakka and as far north as the Kissimmee River Basin have not gone unnoticed. We need more boots on the ground, searching for and eradicating as many of these pythons as we can. So, why haven't you participated yet?
For the most part, folks out for their first pythons generally come up empty-handed. It can take many hours of intense scrutiny over every inch of ground and many, many miles of surveying to find each one. So, if possible, join an experienced snaker to help you spot 'em. Then again, there's always luck.
Such as a recent capture in the Big Cypress WMA, down in Collier County. Mike Elfenbein and his son, Cole, were out on a hunt when they came upon a real monster; at the same time, three friends from Tarpon Springs, Carter Gavlock, Trey Barber and Holden Hunter, out on a hunt, approached from the opposite direction.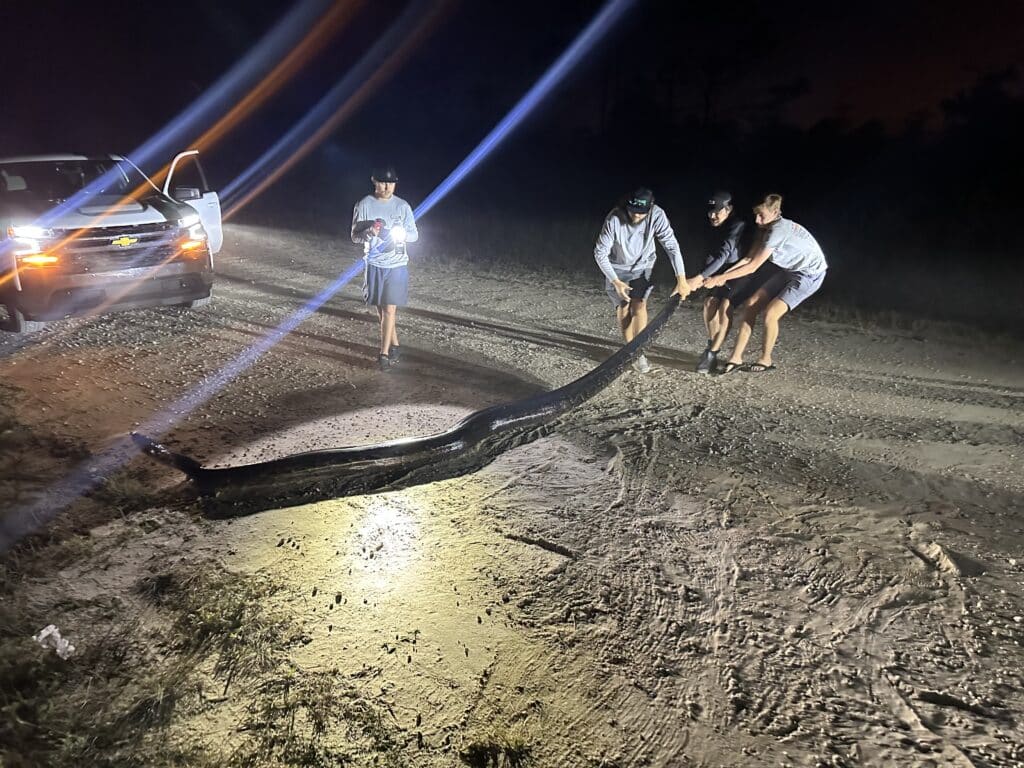 All five men got in on the catch, which is lucky as she put up a fight.
Carter tells me, "She looked fake at first, stretched out across the road. She looked like a big speed bump until I got up close. I got on her, and at first, she was dragging me around; no problem. It took all five of us to get her under control. I had a general idea about their strength, but a snake that size was something I'd never imagined. Mike had grabbed the head, and I went up to help him, and she actually lifted the both of us right off the ground!"
Mike, the executive director of the non-profit conservation organization, the Cypress Chapter of the Izaak Walton League of America, tells me, "It was pretty insane! One of the three men from Tarpon Springs first grabbed her by the tail and she nearly dragged him into the canal. My son grabbed on by her tail to help pull, while I grabbed her head, and the others just piled on in her middle. It was pretty exciting!"
The female python this group of hunters stumbled upon was 17' 2" and, at 198 lbs, was the second heaviest snake ever recorded in Florida. She was an old girl and, according to her stomach contents, a prolific diner of venison.
Mike went on to tell me that neither he nor his four fellow hunters are not state contractors; they are just sportsmen out doing their part to try and save our native wildlife.
As always, if you have any questions or feedback, give me a shout at [email protected]. God Bless, and good hunting!